8th BBF Seminar on April 27 in Dhaka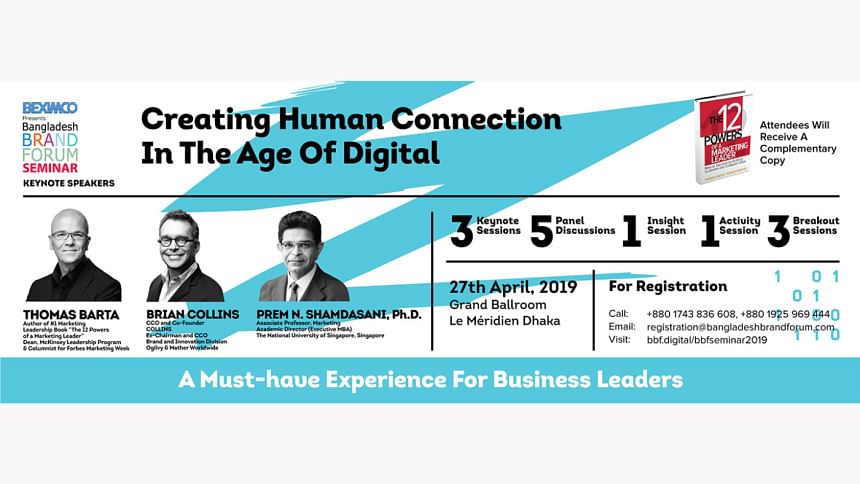 Bangladesh Brand Forum (BBF) will hold the 8th iteration of its flagship initiative "BBF Seminar 2019" on April 27, the day of its 12 year anniversary.
Presented by Beximco, the event will take place at Hotel Le Méridien, Dhaka, according to a press release issued in this regard.
 The theme for this year's seminar is "Creating Human Connection in the age of Digital," the press release adds.
The seminar will consist of three Keynote Sessions, five Panel Discussions, one Insight Session, one Activity Session and three Breakout Sessions.
Starting in 2008, BBF seminar has been sharing global insight among the local business leaders through keynotes, panel discussions, and interactive sessions.
The keynote speakers for this year's summit are – Prem N Shamdasani, PhD, associate professor, Marketing, Academic Director (Executive Director), National University of Singapore; Brian Collins, CCO and co-founder, Collins and ex-chairman & CCO, Brand & Innovation, Ogilvy & Mather Worldwide; and Thomas Barta, dean, McKinsey Leadership Program and columnist for Forbes Marketing Week. Thomas Barta is also the Author of a bestselling Marketing Leadership Book – "The 12 Powers of a Marketing Leader".
The topics for the five Panel Discussions are – Driving Digital Transformation for Brands; What Do You Stand for Positioning/Purpose - Does it Matter?; Data - Creativity - Privacy - Value Creation: Where is the Sweet Spot?; Short Term - Long Term Debate in the Era of NOW MOMENT; and Why Brands Must Lead the Sustainability Battle, the press release adds.
Each participant of the seminar will receive one copy of the book "The 12 Powers of a Marketing Leader".
Bangladesh Brand Forum Seminar 2019 is presented by Beximco. Also supporting the seminar are – Strategic Partners MSB and The Daily Star; Event Partner – Le Méridien, Dhaka; Digital Partner – Applied Business Initiatives; PR Partner – Backpage PR and Branding Partner – Terracotta.
In order to register for the seminar, please visit: http://bbf.digital/bbfseminar2019