10pc RMG factories yet to pay salary, bonus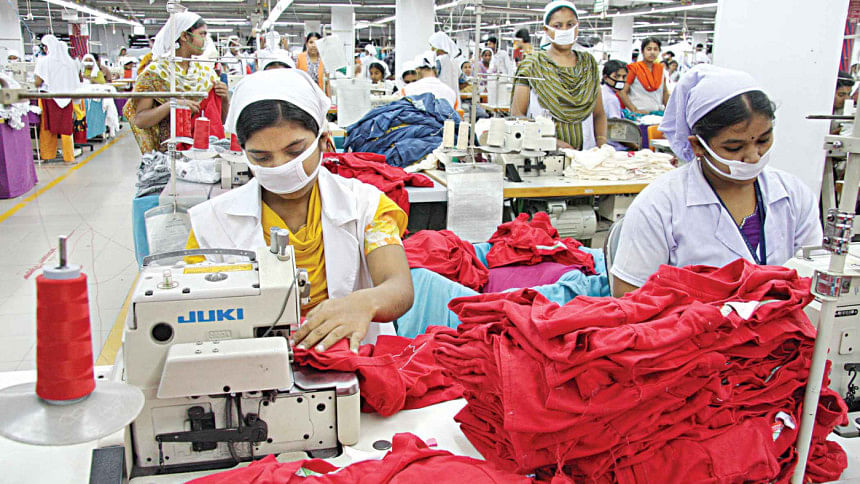 Not all garment factories have been able to pay workers' salaries and festival allowances within the government-set deadline ending yesterday.
As of yesterday, 92 per cent garment factories paid the festival allowances while some 90 per cent salaries of April, said Faruque Hassan, president of the Bangladesh Garment Manufacturers and Exporters Association (BGMEA).
The rest will complete making all payments within the next two days, he said.
"Still we have confusion over whether 10 to 12 factories would be able to pay the workers as their financial strength was not that strong. Most of these are small units," Hassan told The Daily Star over the phone.
"We are working with these factories so that they can pay the workers before Eid-ul-Fitr," he said.
Some 40 factories were in a very vulnerable situation over making the payments but the tally declined significantly after the BGMEA worked with them and held consultations with banks concerned, Hassan also said.
He said many factories, particularly the small ones, have been facing troubles in making payment as either their work orders had been cancelled or they were facing delays in payments from international retailers and brands.
Moreover, banks are not interested in providing loans to these small units which have been running under a financial crunch, he said.
"So we are also talking with the banks for arranging loans for the troubled factories so that they can pay the workers," he said.
Regarding holidays, Hassan said the factory owners have already started allowing extensions of holidays in consultation with the workers as the labour ministry in a meeting Sunday agreed to allow it if deemed necessary.
However, Nazma Akter, president of workers' platform Sammilito Garment Sramik Federation, refused to accept Hassan's data on payments.
Akter said some 70 per cent of factories paid the salary of April and 80 per cent festival allowances as of yesterday.
The factory managements should pay the workers timely as they worked hard even amidst the Covid-19 pandemic and in the month of fasting, Akter said.
Earlier, Begum Monnujan Sufian, state minister for labour and employment, on several occasions and tripatrite meetings of factory managements, government highups and union leaders instructed the factory owners to complete making the payment by May 10.
Sufian also in a statement on Sunday requested the workers to stay back during the three-day public holiday for Eid instead of going back to their permanent homes in other districts to contain the spread of Covid-19 infection.
She said workers could spend more than three days as holidays in consultation with the factory managements but they would have to stay back at their workplace-focused residences.
Industrial police could not be contacted for comment on the payment issue.
Md Nasir Uddin, inspector general of the Department of Inspection for Factories and Establishments (DIFE), also said he has not got the final, updated report regarding salary disbursement.
"It was late to make the report on salary and allowance disbursement as it is a public holiday," Nasir Uddin told The Daily Star over the phone.