Memoirs of a fervent patriot
Economists comment on Prof Nurul Islam at the launch of his autobiography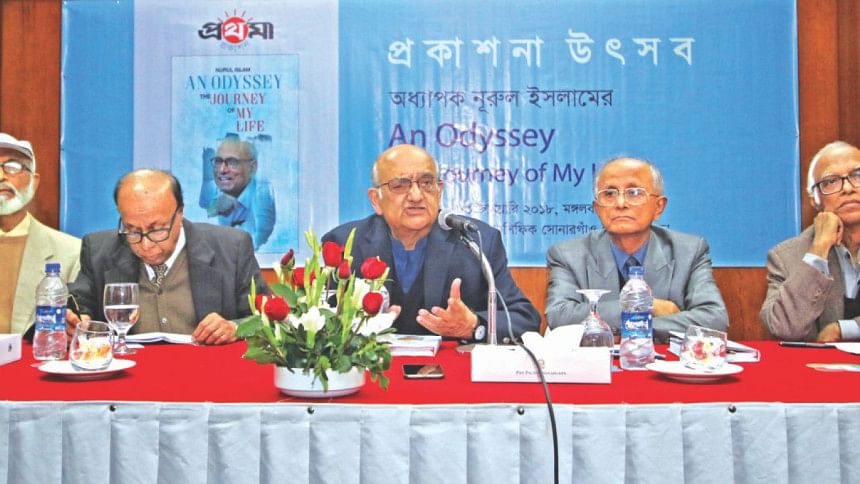 The eye specialist advised him to take a break from college while he was undergoing treatment but his family did not pay heed to the advice.
"I would attend classes, listen to lectures and take notes by barely looking at the notebook to minimise the use of my eyes," said economist Nurul Islam in his book, 'An Odyssey: The Journey of My Life'.
As a result, he developed a style of handwriting that is barely legible. At the same time, a person was hired to read out the notes and the books to him.
By studying this way, he took part in the intermediate exam and came first that year in Calcutta University, Islam said in his book that was published by Prothoma Prokashan.
"This is the story of a remarkable man," said the synopsis of the book that was launched yesterday at the capital's Pan Pacific Sonargaon hotel.
Islam went on to get a BA in economics from Dhaka University and a PhD from Harvard University.
He came back to join the Dhaka University as a lecturer and played an active role in the struggle for economic justice for the then-East Pakistan against the ruling establishment before the birth of Bangladesh. 
He made significant contribution to the Six Points Programme, which paved the way for independence. Later, he took charge of Bangladesh's first Planning Commission.
Islam was a fervent patriot and champion of the idea of an independent Bangladesh.
Economist Wahiduddin Mahmud said Islam's patriotism was such that as soon as he heard of Bangladesh's independence, he dropped everything in the US and took off for his motherland.
Rehman Sobhan, chairman of the Centre for Policy Dialogue, said Islam could have been the Amartya Sen of Bangladesh had he become a professor of economics at Harvard University and conducted research work there.
But he was always fought in this tension between the desire to be a person who could influence in formulating policy and the person who wants to be a successful professional economist.
"He did not resolve this tension in his life," Sobhan said.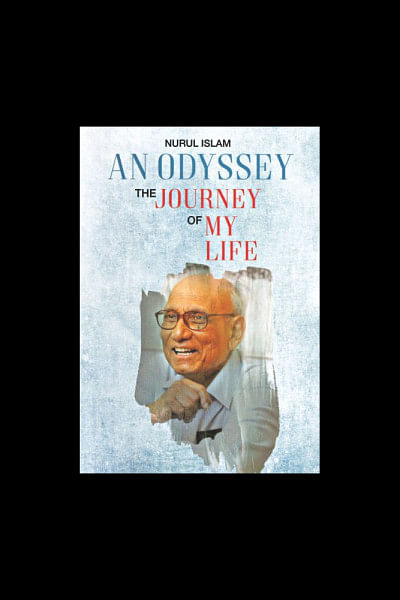 Manwarul Islam, one of Islam's students, echoed the same. He left a lucrative job with the World Bank to work for the country and bring its people out of poverty and hunger.
"This book should be seen as a lantern for the present and the future, not just as an autobiography only. Let it be our guide and our inspiration," he added.
In the book, Islam shared many hitherto unknown episodes and incidences bearing upon his long and chequered life.
Islam's mind was like a computer, Sobhan said. His ability to point out flaws in both theoretical reasoning and empirical works was exceptional, according to Sobhan.
Islam currently resides in Washington DC but he still thinks of Bangladesh.
"But the fire that burns in Washington and the fire that burns in Dhaka do not generate the same heat," Sobhan said. 
At the launch yesterday, Islam, who is now in his 90s, could not attend but he sent out a written speech that was read out by Sobhan, who chaired the event.
"It will be a great reward to me if I have succeeded in conveying a picture to the younger generation of the social, political and economic conditions of our time. After all, one analyses the present in light of the past for purposes of the future," Islam said in his written speech.
Prominent lawyer Kamal Hossain said Bangabandhu Sheikh Mujibur Rahman looked for Islam just after coming out of Pakistan jail in January 1972. 
There would be very few instances in which economists took part in the creation of a nation. Islam was one of the economists who started writing on the disparities between the East and West Pakistan, Hossain added.
"He is a legendary figure. He is an unparallel figure as researcher, policy planner and development thinker," said AB Mirza Azizul Islam, a former finance adviser to a caretaker government.