Max Group wins turbine building work of Rooppur nuclear plant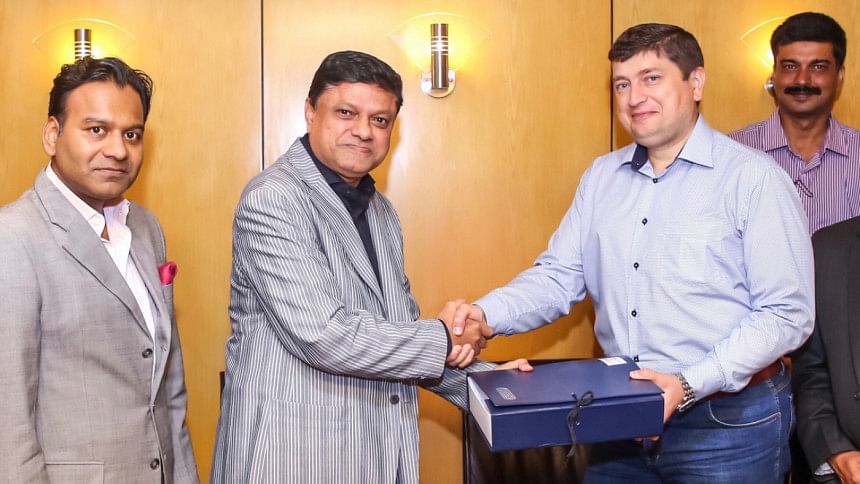 Russian state-run firm Atomstroy-export, the contractor of Rooppur Nuclear Power Plant (RNPP), has recently awarded the work to complete the critical civil and erection works of main turbine hall building of the plant to Bangladeshi company Max Infrastructure Ltd.
Max Infrastructure, a concern of Max Group, in association with its Indian partner Hindustan Construc-tion Company will complete the critical civil and construction work of the main turbine building of the first unit of the plant, according to a statement.
Ghulam Mohammed Alomgir, chairman of Max Group, and Lastochkin Sergey Gennadievich, first deputy director of the RNPP directorate at Atomstroyexport, signed a deal in this regard at a local hotel in Dhaka recently.
Previously, Max had also got the work of two more lots of the project, including the work to protect the bank of Padma river and build the common facilities of the construction base.
"Owning and operating a nuclear power plant in the country will be a proud achievement for Bangladesh and working in critical constructions of such a nuclear plant is a proud achievement for Max Group as a local company," said  Alomgir.
The power plant, a fast-track project of the government, is expected to be complete by 2022.
Amit Uplenchwar, CEO of Hindustan Construction Company, and Sunil Jain, CEO of Max Group, were also present at the deal signing ceremony.
Atomstroyexport is a key foreign trade engineering company of Russian atomic energy corporation Rosatom for construction of nuclear power facilities abroad.