MasterCard: in a contest with cash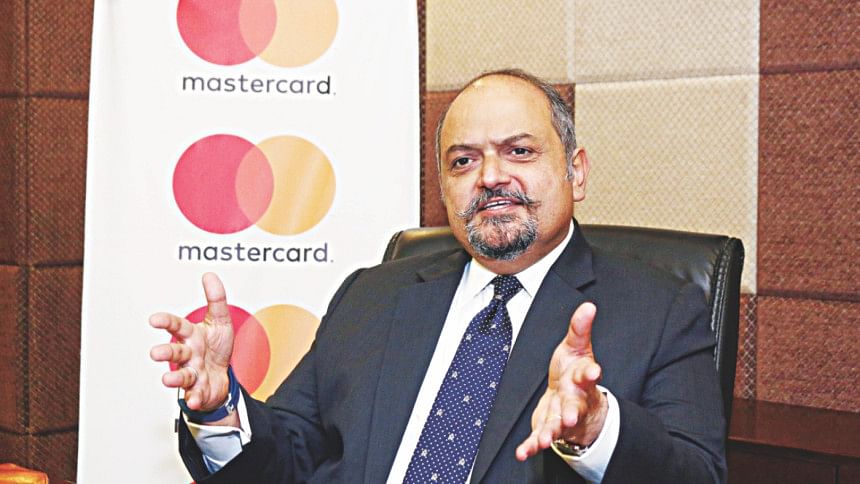 Mastercard, one of the leading payment networks in the world, seeks to grow exponentially in Bangladesh, riding on the country's fast march towards digitisation, said a top official.
The opportunities are aplenty in Bangladesh because 99 percent of the transactions happen through cash; only the tiny 1 percent takes place electronically, according to Porush Singh, the division president for South Asia at MasterCard.
"As long as there is cash, I am excited," said Singh, who was in Dhaka recently to meet with MasterCard's customers that include card issuing banks and merchant partners.
In fact, Bangladesh is an important market for the electronic payment industry: due to being relatively untapped, it presents opportunities for testing innovative payment services, particularly through mobile phones. 
"So, if you can embed safety and security systems on the devices then you are able to create solutions for the future," he told The Daily Star in an interview.
Any cash-intensive market would eventually move to digital payments, said Singh, also MasterCard's country corporate officer for India.
"The disruption will happen."
This is largely true for Bangladesh because the market has very high mobile connectivity and internet penetration rates.
"So, getting the right kind of consumer experience is a matter of time. We have already seen some of the trends happening."
Consumer experience is driving changes across the world, said Singh, who joined MasterCard in 2005 after stints at First Gulf Bank, American Express, ANZ Grindlays and Standard Chartered.
Everybody has to think carefully in a digitally connected world about what to do to provide the right kind of consumer experience or merchant experience in a very safe and secure manner.
The 54-year-old said Bangladesh has been a very good market for MasterCard, which does not give out country-specific numbers like cards in circulation, growth, earnings and net profits.
"All I can say is that we are doing very well in the market. The opportunities are high across all the different verticals."
MasterCard started its journey in Bangladesh in 1997 and in November 2013 the American multinational financial services corporation opened its office in anticipation of huge growth in the country's payments and e-commerce markets.
Creating the right solutions in a digital world and solving customers' problems will only happen when the company is in front of customers, Singh said.
"The local presence is helping create new solutions."
Singh thinks the government is definitely very interested in driving digital payments in Bangladesh.
The company is also investing heavily in financial inclusion.
In 2015, MasterCard rolled out an initiative to bring 500 million people under the proper banking umbrella by 2020.
More than 300 million people have already been brought under the financial network in the 56 countries that the company operates in.
And Bangladesh is a significant contributor to the milestone, according to Syed Mohammad Kamal, country manager of MasterCard in Bangladesh.
There are no exact published numbers on debit and credit cards in Bangladesh. But the central bank has indicated that there are 10 million debit cardholders and 1 million credit cardholders in Bangladesh, he said.
While the number is still too small, it will only grow substantially because the country has got the mobile and internet connections it needs, Singh said.
More and more areas are getting enabled for electronic payments and more people are going to be a part of the ecosystem.
Data from various countries show that electronic payments are in fact cheaper, Singh said. More importantly, they help increase volumes and sales and create a better taxation system and also reduce crime.
"Let's face it. All crimes and bad things in the world are driven by cash. That's the reality."
He said Bangladesh's GDP growth is excellent and it is one of the few countries that have such kind of high economic growth.
He is optimistic about MasterCard's business prospects in Bangladesh, as GDP growth translates into personal expenditure and business-to-business payments growth.
Digitising those will lead to a digital economy, he said.
"That's why we are excited about partnering with the country's digitalisation drive. We believe we can be a very credible partner by bringing in technology solutions and achieving the Digital Bangladesh vision."
He said the country needs to invest in infrastructure to sustain the growth in the future. To do so, it requires money.
"That's why you need to have an efficient and electronic payment system that goes well beyond just payments, which will help both direct and indirect taxation and generate more revenues." 
There are 34,000 point of sale machines across the country and all of them accept MasterCard.
Singh said he believes that at the end of the day MasterCard's competition does not lie in the market share, credit cards or debit cards.
"Our competition is with cash. Every time somebody uses cash that is our competition."
MasterCard Bangladesh has recently signed an agreement with the Prime Minister's Office on disbursing subsidies digitally.
The government has more than 147 social safety net programmes involving more than $4 billion. Gradually, each of the programmes would come under the digitalising initiative, according to Kamal.
Last month, Bank Asia and MasterCard launched 'Shadhin' card, the first-ever freelancer card in Bangladesh.
The card will enable freelancers to legally receive their income directly from international employers in a safe and secured environment.
"The partnership with Bank Asia reiterates our commitment to build a world beyond cash. We believe that these benefits and features will go a long way in diversifying our product portfolio and tailoring our products and services to the needs of our valuable customers," Kamal added.