Make jute sector profitable: PM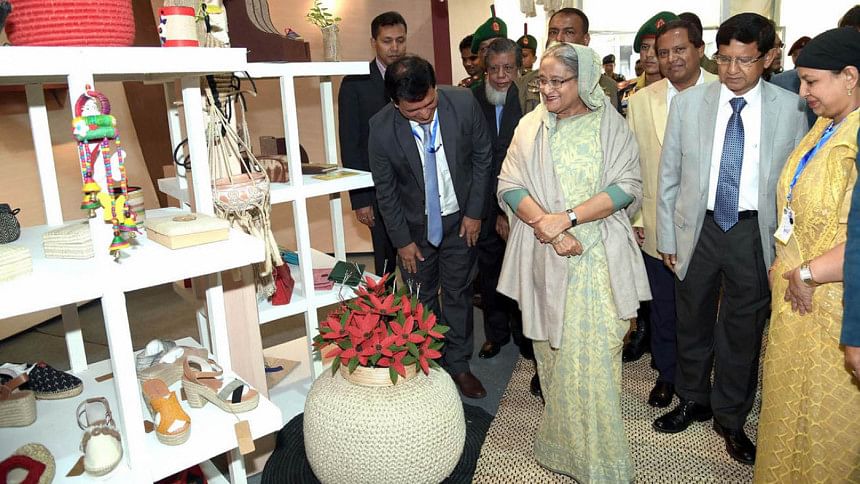 Announcing incentives for the private sector to boost production and export of jute and jute goods, Prime Minister Sheikh Hasina today called upon all concerned to take effective steps for making the jute sector profitable to sustain the jute industry.
"Jute is such a product, nothing of which is wasted. So, why it will count losses … I don't want to hear (any) loss (from it) and attention will have to be given on how the industry could be made profitable," she told the inaugural function of the National Jute Day-2019 and Diversified Jute Products Fair at Bangabandhu International Conference Center in Dhaka city this morning.
"I believe that we will be able to make the sector profitable by innovating new products … I'm not with the people who are pessimistic, I'm always optimistic," she added.
The prime minister said that the government support for development of the sector will continue. "But we want to give more importance to the private sector. As much as the private sector will come forward, the jute industry will be flourished to that extent," she said.
Sheikh Hasina said her government is giving incentives to other sectors for accelerating the pace of the country's development. "We will also provide incentives to those involved in the jute sector so that they can export more jute products," she also said.
"As other export-oriented products are getting incentives, the jute products will also receive such incentives," she added. The Ministry of Textiles and Jute organised the function with Textiles and Jute Minister Golam Dastagir Gazi in the chair.
Chairman of the Parliamentary Standing Committee on Textiles and Jute Ministry Mirza Azam was the special guest at the function, while secretary in-charge of the ministry Mizanur Rahman delivered the welcome address.
Ministers, secretaries to the prime minister, parliament members, foreign diplomats and high civil and military officials were present at the function. The Jute Day is being observed across the country today with the slogan of "Sonali Asher Sonali Desh, Jatir Pitar Bangladesh".