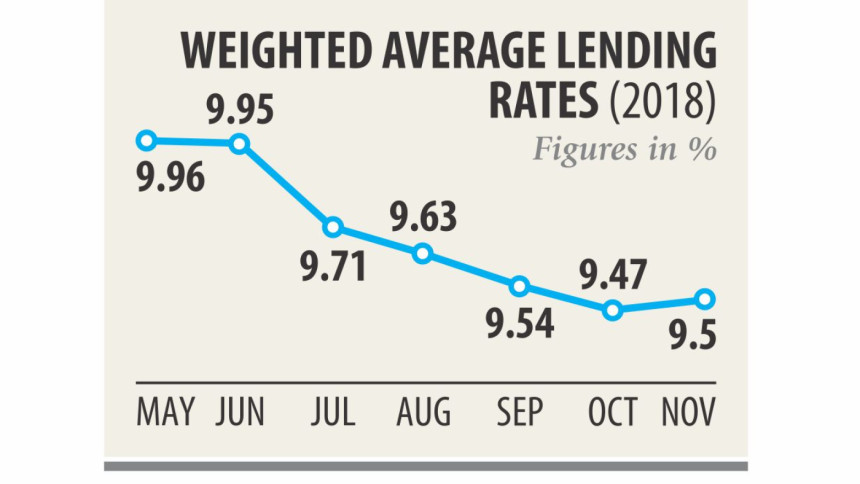 The interest rate on lending is on the rise amid high import pressure and hunt for deposits at the end of last year.
In November, the weighted average interest rate stood at 9.5 percent, up from 9.47 percent the previous month, according to data from the Bangladesh Bank.
Though the average remained within single digits, 28 out of the 40 private banks are lending at double digits. The interest rate on lending will continue its upward trend due to expansion of business activities after the December 30 election, bankers said.
Despite the slow credit growth before the election the interest rate kept rising as banks mobilised deposits at higher rates to adjust their loan-deposit ratio ahead of the March deadline, said Md Arfan Ali, managing director of Bank Asia.
"If the cost for deposits increases so will the interest rate on lending," he added.
Most of the banks could not bring down the interest rate on lending to 9 percent as instructed by the Bangladesh Association of Banks, a platform of private banks' directors, according to Faruq Mainuddin Ahmed, managing director of Trust bank.
"It is because there is still liquidity crunch in banks."
One of the reasons for the liquidity crunch is the soaring imports for mega projects.
"Banks are taking dollars from the Bangladesh Bank and the local currency is entering its vault," Ahmed added.
In the first five months of the fiscal year, import payments rose 6.64 percent year-on-year to $23.43 billion.
"It is not possible for banks to bring down the lending rate to 9 percent; rather, it will continue to rise in the new year," said Anis A Khan, managing director of Mutual Trust Bank.
The interest rate will go up due to higher credit demand from the private sector amid business expansion activities after the election.
Moreover, government borrowing will increase significantly due to implementation of mega projects, Khan added.
As of October last year, private banks' excess liquidity stood at Tk 20,913 crore, in contrast to Tk 31,200 crore in June.
On April 4 last year, the central bank reduced the cash reserve ratio (CRR) by one percentage point to 5.5 percent to ease the liquidity condition.
The decision was taken as the directors of banks promised to bring down the lending rate at 9 percent after easing liquidity condition. On June 20, BAB Chairman Nazrul Islam Mazumder made an announcement of 9 percent lending rate and 6 percent deposit rate.
The weighted average lending rate of Exim Bank, where Mazumder is the chairman, increased to 10.62 percent in November from 10.47 percent in June, according to Bangladesh Bank data.