Linde starts construction of new plant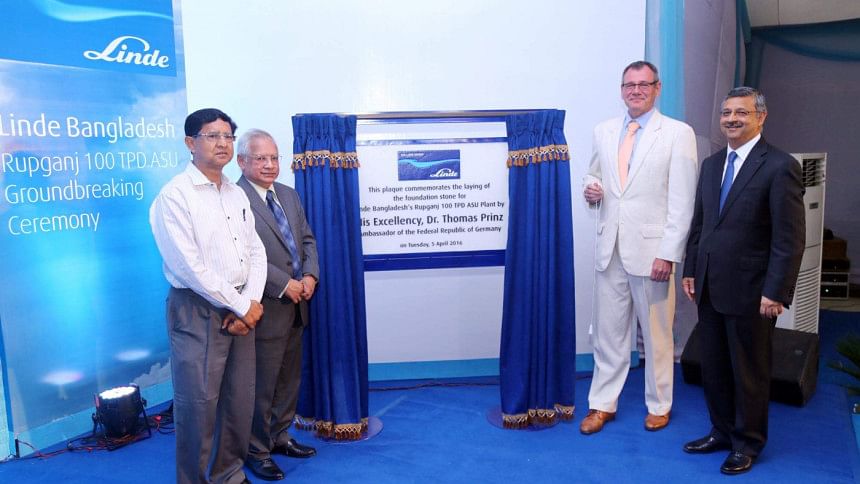 Linde Bangladesh, a pioneer in industrial gases, yesterday started construction of a new air-separation unit at Rupganj in Narayanganj, a move that will cost the German firm about Tk 120 crore.
Once the new unit is completed in 2017, the Rupganj plant will produce around 100 tonnes of liquefied gases a day, making it the largest liquid gas producing air-separation unit in Bangladesh.
It will provide a supply of liquefied gases and related solutions to the healthcare, food and beverage, fabrication, pharmaceuticals, shipbuilding and ship recycling industries, according to a press statement.
The plant will more than double Linde's existing production capacity, strengthening its position as the leading player in Bangladesh.
A high-tech cylinder filling site will also be built in Rupganj to provide a range of products to customers across all market segments.
"By investing in this country, Linde demonstrates that it has faith in Bangladesh and its market," said Thomas Prinz, the German ambassador to Bangladesh.
By providing the necessary support to Linde, the authorities in Bangladesh have shown that investing in their country does pay off and that foreign direct investments are really welcome, he said.
"I hope this venture will serve as a successful example of such investments, which, in turn, can help attract other multi-national companies," he added.
Sanjiv Lamba, executive board member and chief operating officer of Linde Asia Pacific, said: "Asia Pacific is the growth engine for Linde Group, and our Bangladesh business is an important part of our larger South Asia business."
From the economic viewpoint, Bangladesh has developed at an impressive rate, maintaining a steady growth rate in recent years amid a global downturn. "We are optimistic that the country will continue to grow."
"The demand for our gases has continued to be strong and we are making this investment as an investment for the future. We are proud to continue to partner with Bangladesh in its growth journey, just as we have been in the past 60 years," he said.
Linde Bangladesh's product portfolio and services include liquids and gases such as oxygen and nitrogen, argon, acetylene, carbon dioxide, dry ice, refrigerant gases, lamp gas and other gas mixtures and medical oxygen.
Listed in 1976 on the stockmarket, each share of Linde Bangladesh traded between Tk 1,084 and Tk 1,122 before closing at Tk 1,106.6 on Dhaka Stock Exchange yesterday. The company logged in net profit of Tk 65 crore in 2015, up from Tk 62 crore a year earlier.