Linde opens Tk 120cr air separation unit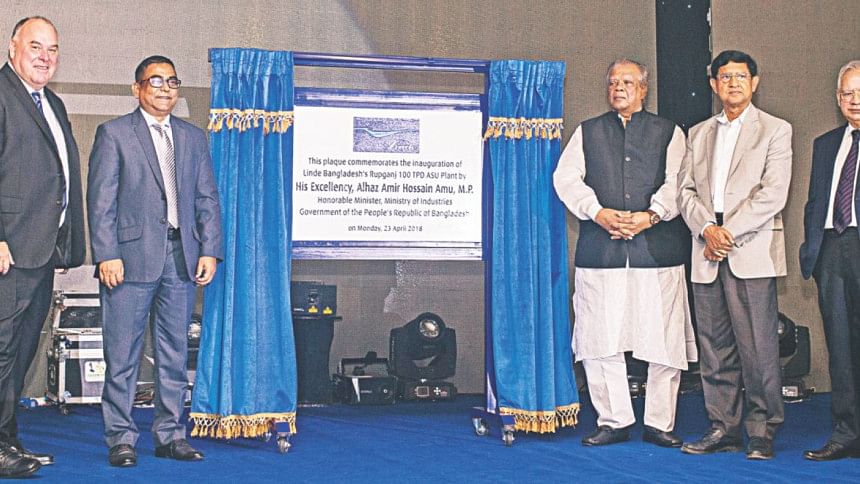 Linde Bangladesh Ltd, a member of Linde Group's Gases Division, yesterday inaugurated an air separation unit in Rupganj.
The company invested Tk 120 crore for the unit.
An air separation plant separates atmospheric air into its primary components, typically nitrogen and oxygen, and sometimes also argon and other rare inert gases.
The Rupganj plant will produce about 100 tonnes of liquefied gases per day, making it the largest liquid-producing merchant air separation unit in Bangladesh, according to a statement of the company.
The project engineering division, a subsidiary of Linde Engineering, designed, built and managed the construction of the Rupganj plant, which comprises modern energy efficient technology and promises operational reliability.
It will provide liquefied gases and related solutions to Bangladesh's growing healthcare, food and beverage, fabrication, pharmaceuticals, shipbuilding and ship recycling industries.
The plant will more than double Linde Bangladesh's current production capacity, strengthening Linde's position as the leading gases player in Bangladesh.
A state-of-the-art cylinder filling site at Rupganj has also been built to provide a range of cylinder products to customers across all market segments.
Industries Minister Amir Hossain Amu inaugurated the unit. He said Linde's investment demonstrates its faith in Bangladesh and its market.
He hoped that the venture would exemplify the success of such investments which can help attract other multinational companies to follow suit.
Rob Hughes, regional director, South and East Asia, Linde Gas Asia Pte Ltd, said, "The Asia Pacific is the growth engine for the Linde Group, and business in Bangladesh is an important part of our larger South Asia business."
"Economically, Bangladesh has developed at an impressive rate, maintaining a steady growth rate in recent years amidst a global economic downturn," added Hughes.
Narayanganj-1 lawmaker Golam Dastagir Gazi attended the event.