LG Electronics: gung-ho about Bangladesh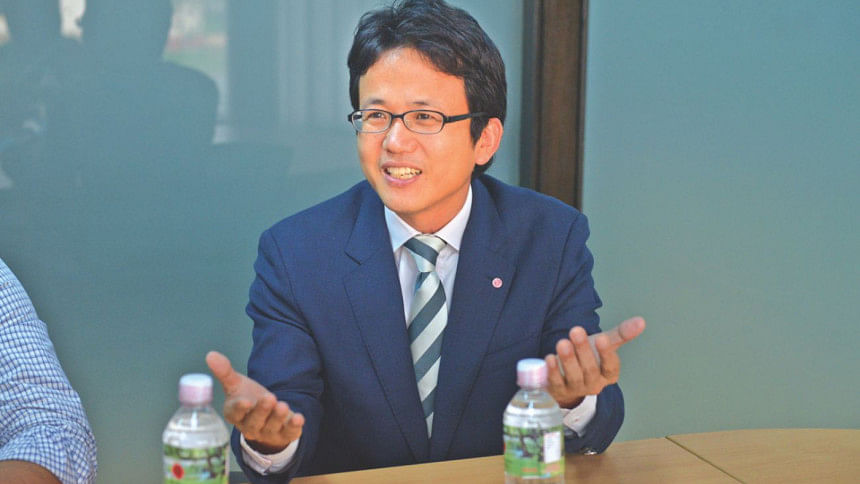 South Korean electronics giant LG Electronics is working to set up a manufacturing plant in Bangladesh, in a development that is set to be yet another pat on the back to the country's industrial aptitude.
Since June last year, its compatriot Samsung has been manufacturing four home appliance products in the two factories it set up with Transcom Group and Fair Electronics in the capital's Mohakhali area and Narsingdi respectively.
The plant -- which will be set up with LG's local partner Butterfly -- is expected to start rolling "soon", Edward Kim, managing director of the Bangladesh office of LG Electronics, told The Daily Star in an interview recently.
The electronics giant sees Bangladesh becoming 'the next India' in ten years' time and the plant is in preparation for the huge customer gain that is to invariably follow with the rise in GDP per capita and the purchasing power.
"This is the right time to prepare for the next ten years," said Kim, who has been with LG Electronics for 18 years now.
Localisation is central to LG's plan for Bangladesh, he said. For instance, in 2017 it rolled out a model of air conditioner and LED TV that repel mosquitoes, the vector of diseases such as chikungunya that plagued Dhaka residents last year, dengue and malaria.
The two appliances deploy the "Mosquito Away Technology". Ultrasonic waves are emitted that are inaudible to humans but cause mosquitoes to fly away. The technology has been certified as effective by an independent laboratory near Chennai, India.
It also rolled out a model of smart TV last year that enhances the cricket viewing experience, a national pastime of sorts.
In the similar vein, this year LG is set to bring out state-of-the-art air purifiers, progressively becoming an essential home appliance for a country that has been seeing steep rises in air pollution since 2010, according to the State of Global Air, a research organisation that tracks the air quality around the globe.
LG's regular product offerings in Bangladesh include state-of-the-art LED TV, Smart TV, home theatre, surround systems, refrigerators, washing machines, microwave oven, vacuum cleaner and smartphones.
But, Kim, who was previously posted in Thailand and Singapore, feels the company has not scratched the surface yet of what it has to offer to the country.
"We are leading among all the global brands but we still have a long way to go. There is a gap between our actual performance and our aspirations."
One of the market segments where the company is definitively lagging behind -- and especially when compared with Samsung -- is mobile phones.
"We tried to jump in to the mobile phone business in 2017 -- it's really tough," said Kim. 
Globally too LG is playing catch-up with other brands. "LG was globally a sort of latecomer in the smartphone market," Kim said.
When feature phones were the mobile phone standard, Nokia was the global market leader, followed by Samsung, Motorola and LG. Then LG became the number 3 player.
"But at the time, our aspiration was to take up the number 2 position, while our competitors like Apple and Samsung invested on smartphones. That one and a half years gap made a huge difference."
Kim says if the mobile phone segment is excluded, he has more confidence in LG's ability to prevail in 2018.
And yet, he foresees 2018 to be a better year for LG's mobile phone business in Bangladesh as it introduces mid-range handsets, alongside its flagship models, to compete with Chinese manufacturers such as Oppo and Vivo.
The company's revenue in 2017 was about $100 million, up 35 percent year-on-year, according to Kim, who has been in Bangladesh since 2015. "2017 was a fantastic year. The consumer electronic growth was amazing."
He expects the figure to double in three years' time, partly by targeting new customer bands such as the low- and mid-range segment and expanding the product coverage.
An area in which the company wants to particularly focus on in 2018 would be the business-to-business (B2B) segment.
"Day by day, we see huge business potential in the B2B segment. We are now in a leading position in terms of consumer electronics but in terms of B2B we have plenty of products that we have not introduced in Bangladesh. So next year, my focus will be to bring those B2B products to the market."
He also wants to launch a host of modern energy-saving products, which would be 10-15 percent more expensive but would use about 60 percent less energy.
"Considering the electricity cost you would be saving up on the lifetime of the appliances, the 10-15 percent higher initial cost would be reimbursed within one and a half years to two years' of use."
Kim, who has about two years left of his tenure in Bangladesh, would like to establish LG as an aspirational and yet an approachable consumer electronics brand, one that is ahead of the curve when it comes to innovation.
And in 2018, he hopes to have a reference point of LG Electronics of his vision.
"LG's slogan is 'Life's Good'. I want to reach out to the low- and middle-income segment. I want them to buy into the LG brand -- I want to satisfy them."
And satisfy they would be with the durability of LG products, he said.
The company is providing a ten-year warranty for its refrigerators, microwave ovens, air conditioners and washing machines.
"We are the first company to provide such a long-term warranty because we have the utmost confidence in our products. I repeat, our products will not be easily damaged. If there is any product issue in that time, we will replace for free."
Kim, who earned master's degree in international business from the Seoul National University, is sanguine about the direction Bangladesh is headed in general.
Other than the garment sector, he is seeing more and more Korean companies coming to Bangladesh for construction, IT and infrastructure projects.
"The Bangladesh market is fast-growing. Everyday a new building comes up, a new project is announced. As a businessman, the number one focus is whether the market itself is attractive and dynamic. And I see the most dynamic country."