Keya Cosmetics share weighed down by sponsors' selloffs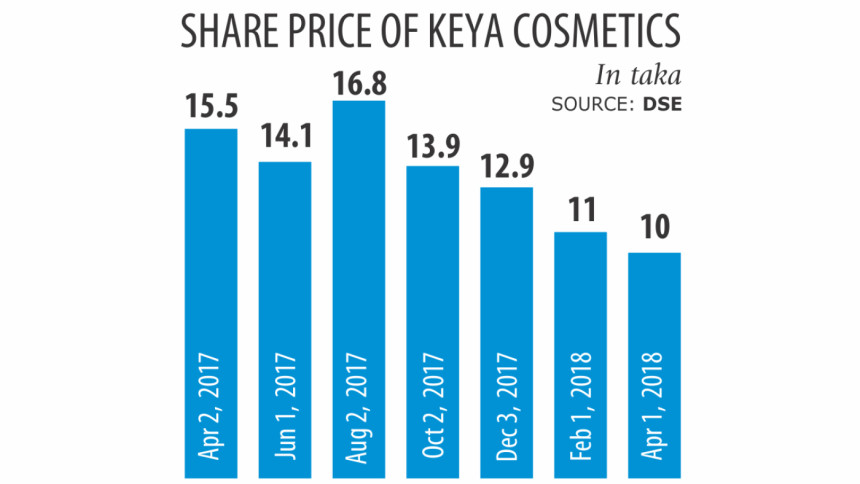 Four sponsors of Keya Cosmetics, a company listed on the Dhaka Stock Exchange, have sold off 19.42 crore shares to pay off their bank loans, much to the detriment of the stock's price.
Each Keya Cosmetics share traded at Tk 10.10 on Monday, a decline of 37.5 percent from a year earlier, according to data from the DSE.
As of March 31, sponsors' holdings in Keya Cosmetics stand at 52.15 percent, in contrast to 62.77 percent on June 30 last year.
The shares, which yielded Tk 200 crore, were sold by: Keya Yarn Mills (9.79 crore); Abdul Khaleque Pathan (7.99 crore), managing director of Keya Yarn Mills and chairman of Keya Group; Feroza Begum (1.35 crore), wife of Pathan; and Tansin Keya (29 lakh), ward of Pathan.
Pathan was arrested in August last year by the Anti-Corruption Commission on charges of misappropriating Tk 111.14 crore by way of loans from state-owned Bangladesh Krishi Bank.
The loans were taken for Keya Yarn Mills, a spinning mill located at Konabari, Gazipur.
Contacted, Pathan said the stock sell-off was to settle the bank loans of Keya Yarn Mills with BKB.
"We have lots of Keya Cosmetics shares, so we decided to sell some of them to repay bank loans. If we have to settle more claims of the bank, we will sell more shares," he added.
Earnings per share of Keya Cosmetics for the July-September period of last year were Tk 0.66, up from Tk 0.63 a year earlier.
Keya Cosmetics announced 20 percent stock dividend for 2017, up from 18 percent a year earlier.