Kaymu eyes expansion amid a boom in online shopping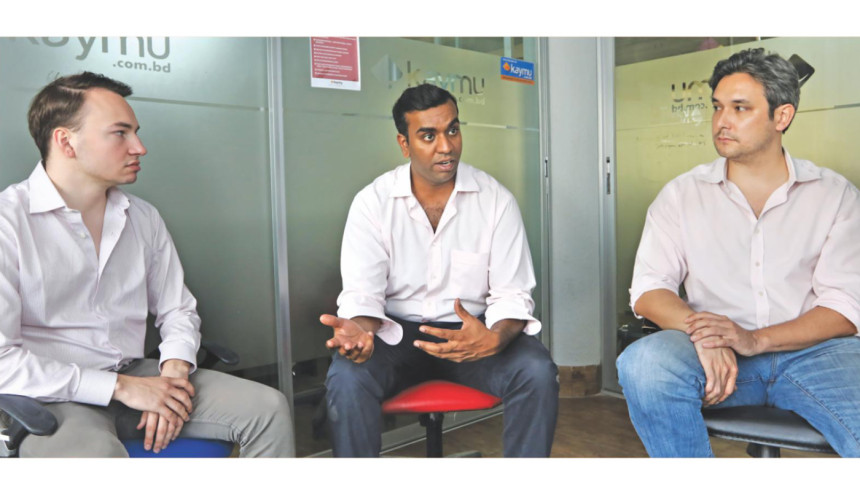 With robust growth in the number of customers in the first year of operations, German-based online shopping company Kaymu plans to raise investment in Bangladesh, according to Christian Schroeder, co-founder and managing director for Kaymu Asia.
He, however, did not disclose the amount that will be further invested in the country. 
Kaymu that began its online shopping business in Bangladesh in January 2014 offers an array of products, including clothing, footwear, mobile phones, computers, jewelleries, watches, electronics, books, and food and beverages.
"We plan to expand our business here as Bangladesh is already a key market for us in South Asia," he told The Daily Star in an interview yesterday.
Kaymu also has operations in Pakistan, Nepal, and Sri Lanka in South Asia.
"The Bangladesh market is growing fast. Our company grew 300 percent in our one year here," said Niroshan Balasubramaniam, managing director at Kaymu for Asia.
Kaymu Bangladesh has now 10,000 registered sellers and 100,000 different products on its website, he added.
The number of its registered buyers across Bangladesh is more than 100,000 and the number is increasing every day, as people are more interested in making online purchases, he said.
Customers can buy products directly and have the products delivered safely to them anywhere across the country.
In Dhaka, Kaymu can deliver products on the same day or the next day of purchase, while it takes a few days to deliver outside the capital, he said. The company uses courier services to deliver goods outside Dhaka.
Kaymu will sign an agreement with bKash, a mobile financial service provider, for easy payment options, Balasubramaniam added.
Schroeder said the company's website will add many more products soon.
"People will not need to go to markets anymore. They can buy everything online," Schroeder said. "All that a person needs in his day-to-day life will be available in the online bazaar. It will act as an online super market for the customers."
Registration with the Kaymu website is free for buyers and sellers, Balasubramaniam said.
The company started charging commission on sales two months ago, with the rate varying between 2 percent and 12 percent, depending on the product, he said.
"What is happening in Bangladesh's e-commerce business now is similar to how Amazon or Ebay started in Europe or the USA almost 20 years ago: they had to build people's trust first into these shopping platforms by giving a great consumer experience before reaching their full scale and increasing the number of returning customers."