JP Morgan clients buy into Islami Bank
Institutional and individual investors hold 3pc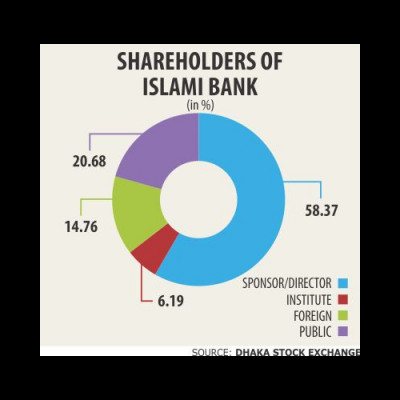 JP Morgan's clients have bought around 3 percent shares of Islami Bank Bangladesh Ltd or IBBL over the past several years, officials said.
The US-based banking firm bought the shares for its institutional and indi-vidual investors. The shareholding empowers JP Morgan to hold a post in IBBL's board of directors as the law allows a shareholder to become a director in a publicly-listed company in Bangladesh with a stake of 2 percent.
"The market plunge that began in December 2010 in Bangladesh has attracted foreign investors to buy IBBL shares," MA Mannan, managing director of IBBL, told The Daily Star.
"JP Morgan's investment in IBBL shares reflects our strength."
The current market price of IBBL's total shares stands at Tk 4,508 crore -- at over Tk 28 a share as of yesterday.
Presently, IBBL has nearly 161 crore shares, with a face value of Tk 10 per share. If the current market price of IBBL shares is taken into account, JP Morgan's holding of 3 percent shares is valued at over Tk 137 crore.
JP Morgan is one of the largest asset and wealth managers in the world with assets under its management worth $1.7 trillion (as of December 31, 2014).
In addition to investment banking and cash, trade and liquidity services, JP Morgan is a leading asset and portfolio manager for individuals and institutions across the globe. The firm's investment professionals are located around the world, providing strategies and advice for their clients.
The Daily Star spoke to an official of JP Morgan's representative office in Dhaka, who clarified that JP Morgan, as an investment bank, does not hold any share in IBBL.
"Our institutional and individual foreign investors may have bought the IBBL shares," the official said, asking not to be named.
He also said JP Morgan's Dhaka office offers its clients only treasury solutions through its international offices. Standard Chartered Bank acts as a local agent for JP Morgan in Bangladesh. The buying and selling of shares is done through this agent, not by the representative office here, he added.
IBBL is Bangladesh's largest Shariah-based banking company. Sponsors, foreign individuals and institutions, including Islamic Development Bank and a number of companies in Saudi Arabia and Kuwait, own around 58 percent shares of the bank. The rest 40 percent is owned by local and non-resident Bangladeshis.
Of their foreign shareholders, Dubai Islami Bank recently sold its entire holding of around 2 percent shares in IBBL.