Japanese shares continue to rise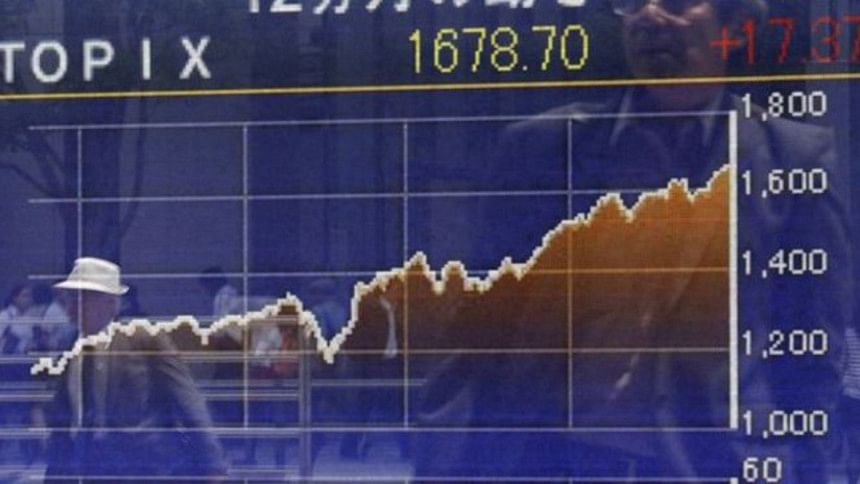 Japanese markets continued their positive streak on Tuesday after rising for 12 days straight - the longest run since a 13-day climb in early 1988.
Japan's benchmark Nikkei 225 was up 0.18% at 20,606.15 in early trade.
The US dollar also rose slightly to 124.88 against the Japanese yen on Tuesday, giving a boost to some Japanese firms.
A weaker yen is good for the country's big exporters as it makes their goods cheaper to buy overseas.
Troubled Japanese car parts maker, Takata, continued to face headwinds however over its faulty airbags.
The firm it said it was intending to replace a chemical used in its airbags, as it tries to fix the fault that led to six deaths and multiple injuries.
Kevin Kennedy, Takata's executive vice president, is due to be questioned by the US Congress on Tuesday about the fault.
In Australia, the benchmark S&P/ASX 200 index was down 0.75% at 5,692.10 points ahead of the Reserve Bank of Australia's monthly rates meeting.
The central bank is widely expected to keep its benchmark lending rate on hold after cutting it to an historic low of 2% last month.
"[There will be] no cut today," said IG Markets' Melbourne-based analyst, Evan Lucas.
"All markets and economists agree on that - interbank market is pricing in a 3% chance of a cut today and all 28 economist say no change."
'GYRATION'
Some analysts said they would be watching for any movement in the Australian dollar once the central bank's decision was out later, as a fall in the currency would give a boost to big mining and energy firms who rely on earnings made overseas.
But Lucas said "the likely reaction in the market today would be a pop in the Australian dollar and a gyration in the [Australian stock exchange]."
Meanwhile, in South Korea, the benchmark Kospi index was down 0.27% at 2,096.77 points.
Analysts said investor sentiment may be dented this week after the country recorded its first deaths from Middle East Respiratory Syndrome, or Mers.
South Korea's health ministry said a 58-year-old woman and a 71-year-old man had died from the illness.
South Korea said it is monitoring close to seven hundred people for possible infection.
MIXED IN CHINA
The Shanghai Composite was up 0.22% at 4,839.58 points in early trade after closing up nearly 5% on Monday. A survey had indicated activity in China's major factories had picked up in May.
In Hong Kong, the benchmark Hang Seng index was down 0.56% at 27,443.21 points after closing slightly up a day earlier.