Invest more in infrastructure for sustainable growth
Regional chief of Standard Chartered talks to The Daily Star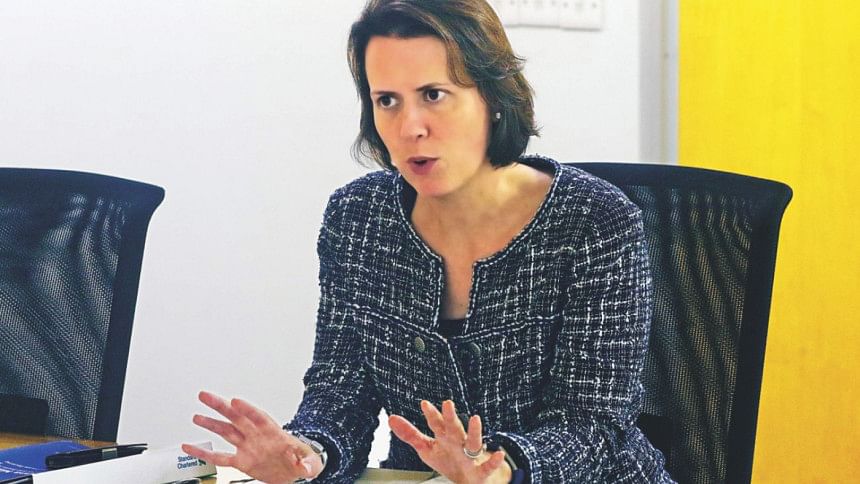 Bangladesh is showing signs of resilience over the years, overcoming natural disasters and conflict, but the country still needs to focus on infrastructure development to continue the economic growth in the long term, said a regional chief of Standard Chartered.
"Bangladesh strikes me as a country of immense opportunity… It is possible to achieve 8 percent or more economic growth," said Anna Marrs, regional chief executive officer for Asean and South Asia at Standard Chartered.
The environment prevailing in the country has both pros and cons, she said in an interview with The Daily Star during her maiden visit to Bangladesh last week.
"If you look 30 years back, there were disasters and conflict, but you have made the climate fit."
The key thing is to focus on infrastructure development, and Standard Chartered will continue providing support in infrastructure financing, she said.
Abrar A Anwar, chief executive of Standard Chartered Bangladesh, said: "If you look at the future growth opportunities here, infrastructure is big scope. And we are playing a leading role in raising millions of dollars for this country."
Standard Chartered Bangladesh is a committed partner in progress for the nation, as it handled almost 13 percent of all trade, directly and indirectly, in 2016, he added.
Over the last three and a half years, he said, the bank has raised $4 billion for power, energy, telecommunication, infrastructure, aviation and the export-oriented industries.
"It's a very exciting time for the country. But it's time to accelerate some of the investment in infrastructure. The investment to GDP ratio should be increased to 35 percent from 30 percent at present."
Marrs said the bank is eager to make sure that the Bangladeshi companies grow.
Standard Chartered always tries to link its clients in the global network who need foreign exchange, and also helps the clients, particularly who try to invest here in Bangladesh, she added.
As Bangladesh is a growth story in Asia and South Asia, the Bangladesh market is very important for Standard Chartered, which has a banking history of 111 years.
It is one of those markets where all the products of Standard Chartered have a presence, starting from retail, commercial banking, transaction banking, internet banking, credit cards and debit cards.
Bangladesh is a very special place; it is one of the growth markets in the regions, said Marrs, who is also the chief executive for commercial and private banking of Standard Chartered globally.
"We have been investing behind the business to serve our clients better. We are investing behind the products – we launched two new cards in the last six months. We are investing behind technology – exciting technology to be launched next month. And we are investing behind our branch network," said Marrs, who joined Standard Chartered as group head of strategy and corporate development in January 2012.
Though the bank's branch network is concentrated in Dhaka, Chittagong and the export processing zones, it is working with other partners, such as development organisations in Bangladesh and other local banks, to bring more people under the banking system.
Discussing financial inclusion, Abrar said the bank is engaged in agriculture, SME and other sectors through its partners.
If it is about opening many small accounts, the bank is not doing that, he said. "We cannot do everything. We are focusing on what we can do best -- like raising funds for large infrastructure projects that others cannot do."
Standard Chartered was the first international bank to extend credit lines to independent Bangladesh, opening the first external letter of credit (LC) in the country in 1972.
It was also the first bank to launch ATM, debit and credit cards, international debit card, Shariah-compliant credit card, 24-hour contact centre and the first state-of-the-art online banking platform in the country.