Int'l incoming call rate slashed 66pc
Move taken to offset the rise of free mobile apps and help ailing IGW industry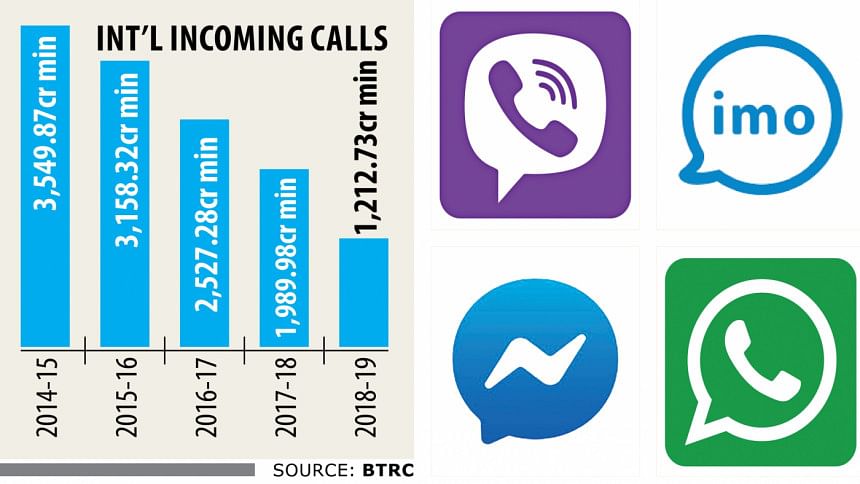 The government has slashed the international incoming voice call rate by 65.71 per cent to $0.006 per minute in the face of shrinking earnings from the sector in recent years.
The decision, which was taken last Thursday, comes following requests from the International Gateway (IGW) operators to help them cope with the growing threat of internet-based communication services.
A significant portion of international calls are now made through internet-based communication platforms such as WhatsApp, Viber, Messenger, Skype, IMO and WeChat, which cost nothing other than the price of data.
Mobile network operators run promotional campaigns for these applications while the relatives of people working abroad have gradually grown accustomed to using internet-based platforms to stay in touch, according to industry insiders.
IGW operators are responsible for all international voice call termination going in or out of Bangladesh.
Legal voice calls have currently gone down to about 2 crore minutes a day, which was some 10 crore minutes a few years back.
Apps like WhatsApp, Viber, Imo, Skype, WeChat and Messenger are taking over local calls too, said Telecom Minister Mustafa Jabbar.
"These apps are also pushing network operators to dire situations too," he said.
Globally, data is gradually taking over voice services as the biggest contributor to carriers' revenue.
"This is also affecting government revenue. Considering the situation, we made this decision," Jabbar told The Daily Star yesterday evening.
The government considered this move for two other reasons as well: to help save the IGW industry and control the illegal termination rate.
International call termination was one of the government's main sources of revenue just five years ago. However, earnings from the sector has shrunk substantially in recent years.
In fiscal 2014-15, the government's earnings from international calls was Tk 2,075.62 crore, which declined to Tk 1,387.37 crore, Tk 967.63 crore, Tk 900.35 crore and just a few hundred crore in successive years, according to BTRC officials.
Voice calls made through free applications is a result of the rise of smartphones and mobile broadband coverage, Jabbar said.
"We need to embrace this development of smartphones for the sake of digitisation. There is no debate on that, but at the same time we also have a responsibility to save our operators as well," he added.
Although the number of active internet connections reached ten crores, the true number of internet users' is about four crore. Almost all of them use communication applications even for local calls, industry insiders said.
Currently, Bangladesh has 24 IGW operators, of which, six lost their licenses for failing to pay unpaid dues.
The latest decision also means that IGW operators will share their revenues based on the declared floor price regardless of how much they actually charge for calls.