Inspiring women professionals honoured
Bangladesh Brand Forum also recognises firms, an initiative for promoting women leadership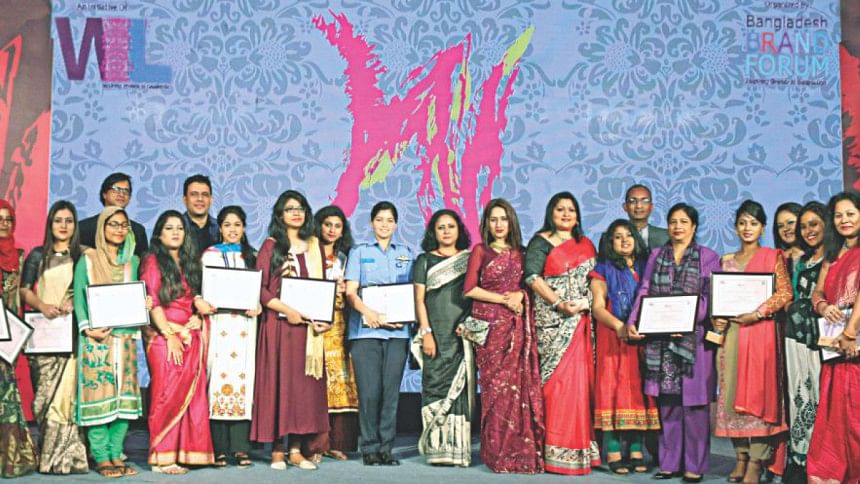 Fourteen women professionals from different walks of life were awarded for succeeding in leadership positions and establishing themselves as role models.
Women In Leadership, an initiative of Bangladesh Brand Forum, handed the 'Inspiring Women Award 2017' to the winners at Le Méridien hotel on Wednesday. The event, which was powered by ACI PURE Spices, also recognised two organisations and one special initiative.
Officials from local and foreign companies, development agencies, government bodies, embassies as well as academics, politicians and celebrities attended the ceremony.
A total of 27 awards were handed over in 12 categories.
Farhana Chowdhury, area manager of British American Tobacco Bangladesh, was crowned as the Aspiring Woman Leader.
Sababa Islam, area sales manager of Modern Trade and Shopping Complex at Unilever Bangladesh, got the award in RFL Plastics Progressing Woman Leader category and Sanjana Farid, regional head at Instant Cash FZE, a subsidiary of Emirates Post, in the category of Le Méridien Dhaka Inspiring Woman Leader.
Unilever Bangladesh won the Le Méridien Dhaka Most Female Friendly Organisation award.
Farzana Chowdhury, managing director of Green Delta Insurance, received the ACI PURE Spices Most Dynamic Woman of the Year award.
IPDC Leaders of Tomorrow award went to Abanti Shreya Saha from the Institute of Business Administration at Dhaka University. Alif Laila Nabila from Khulna University and Abreshmee Adeeba Haque from the IBA became first and second runner up respectively in the same category.
Kohinoor Yeasmin, CEO of Tarango, won in IPDC Inspiring Female Entrepreneur category and Achia Khaleda Nila, founder of Women in Digital, in IPDC Inspiring Female Startup category.
Ifreet Zahin Kunjo, founder of HelpAid Foundation, won Colours FM Power Woman of the Year award. ACI PURE Spices Inspiring Woman in Culinary Art award went to Alpana Habib, a culinary artist.
Samira Zuberi Himika, managing director of Team Engine, got the Inspiring Woman in Technology award and Tayeba Begum Lipi, co-founder of Britto Arts Trust, received the accolade in Inspiring Female in Promoting Art category.
RFL Plastics Inspiring Woman in Defense was won by Flight Lieutenant Nazia Afrin, a squadron pilot at Bangladesh Air Force, and the BraveMen Campaign won the Inspiring Female Friendly Initiative award.
In her address, Nazia Andaleeb Preema, director of BBF and president of Women In Leadership, congratulated the winners and praised all the nominees for their hard work.
Syed Alamgir, executive director of ACI Ltd and Ashwani Nayar, general manager of Le Méridien Dhaka, also spoke at the award ceremony.
Earlier in the day, Women In Leadership celebrated Inter-national Women's Day at the same venue by way of organising the Women Leadership Summit 2017. The summit included five keynote sessions, two panel discussions and a brainstorming session.
Lawmaker Dipu Moni, also a former foreign minister, presented a keynote in the opening session. Mominul Islam, CEO of IPDC Finance Ltd, delivered a speech on women empowerment. Prof Rounaq Jahan, a political scientist, and Sara Zaker, a theater and television actor, and Barrister Tania Amir also spoke at the event. 
Women In Leadership aims to inspire women leadership in the corporate sector of Bangladesh. Inspiring Women Award 2017 was the third edition of the initiative.