Inflation declines to 5.62% in Feb amid food price fall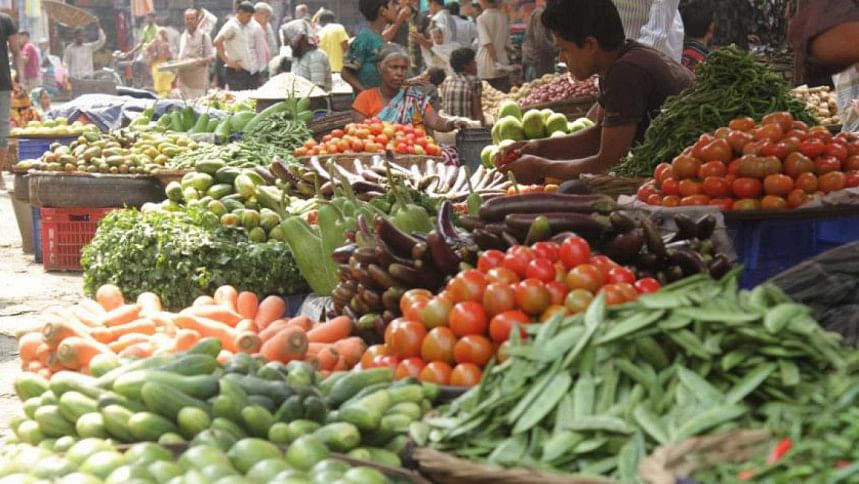 The rate of inflation in February last declined to 5.62 percent, the lowest in the last 41 months, thanks to the declining price trend of food and consumer goods alongside stable exchange rate.
"The general point-to-point inflation rate came down to 5.62 percentage point, which was the lowest in the last 41 months as it was 4.96 percentage point in September 2012," said Planning Minister AHM Mustafa Kamal.
The minister was releasing the monthly consumer price index after the Ecnec meeting held at the NEC conference room in the city's Sher-e-Bangla Nagar area.
The general inflation rate in January was 6.07 percentage point.
According to the data of the Bangladesh Bureau of Statistics (BBS), the food inflation came down to 3.77 percent in February 2016 which was 4.33 percent in January, 2016.
After revealing the data, the Planning Minister said the declining trend of inflation would yield better for people as the more the inflation rate would be reduced, the higher the purchasing capacity of the country's people would be increased.
He also hoped that the government would be able to contain the inflation rate in this fiscal year within 5.50 percent.
Elaborating the reasons for declining trend of inflation, Mustafa Kamal said the price of most of the consumer goods in both local and international markets is less with adequate supply. Besides, the exchange rate remained stable for which the prices of the imported materials and goods are not increasing.
The BBS data showed that the non-food inflation rate also declined slightly to 8.46 percent in February 2016, down from 8.74 percent in January, 2016.
Besides, the general inflation rate at the urban level in February slightly declined to 7.22 percent in February while it was 4.76 percent at the rural level.
At the rural level, the food inflation also declined to 3.04 percent in February, down from 3.63 percent in the previous month, while the non-food inflation declined to 7.97 percent in February as against 8.37 percent in January this year.
In urban areas, the food inflation also declined to 5.48 percent in February, down from 5.96 percent in January. The non-food inflation rate has also witnessed declining trend with 9.14 percent in February which was 9.25 percent in January last.
The national wage index rate witnessed a 5.96 percent growth in February with 134.19 point against 6.04 percent growth with 133.49 point in January.
The average year-to-year rate of inflation from March 2015 to February 2016 also declined to 6.15 percent, which was 6.76 percent from March 2014 to February 2015.