ICB Islamic Bank hit by fresh liquidity crisis
It seeks new ways to pay back depositors of predecessor Oriental Bank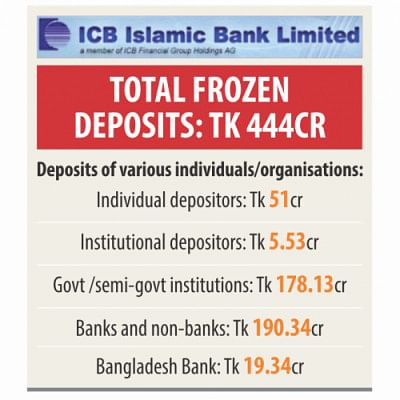 ICB Islamic Bank has sought restructuring of the repayment package for depositors of its predecessor Oriental Bank on grounds of a liquidity crunch, Bangladesh Bank officials said.
The bank still has to return Tk 444.34 crore of now-defunct Oriental Bank's clients, which it was supposed to do by November 2021 -- its fourth deadline from the central bank -- in phases.
As per a BB instruction in November 2016, ICB Islamic was supposed to refund all clients that had deposits of up to Tk 20 lakh with the Oriental Bank within the next three years.
Once returning those clients' funds, ICB Islamic would have to move to refunding those who had deposits of up to Tk 50 lakh. Their claims will have to be settled over the next one and a half years.
Thus far, ICB Islamic managed to pay back only a select few clients who had deposits of up to Tk 20 lakh in May last year.
The next payment second instalment was due six months later in November but the bank failed to keep its word, said a BB official.
Subsequently, last month, ICB Islamic proposed to the central bank to convert the amount, which has been frozen by the BB, into a Mudarabah deposit (term deposit) for the next three years; ICB Islamic will pay interest to the clients every six months.
Of the Tk 444.34 crore, Tk 51 crore has to be refunded to individual depositors, Tk 5.53 crore to institutional depositors, Tk 178.13 crore to government and semi-government institutions, Tk 190.34 crore to banks and non-bank financial institutions and Tk 19.34 crore to the BB.
ICB Islamic, which took shape from the ruins of Oriental Bank in 2008, has so far repaid Tk 1,521 crore of its predecessor's deposits of Tk 1,946 crore.
"The frozen amount will become more profitable if the central bank accepts our plea," said Muhammad Shafiq Bin Abdullah, managing director of ICB Islamic Bank.
Abdullah went on to blame the baggage inherited from its antecedent for ICB Islamic's current financial woes.
"If we had no inherited frozen fund, we would have been in the profit zone," he said.
On September 30 last year, ICB Islamic had a capital shortfall of Tk 1,485 crore and non-performing loans amounting to Tk 709.25 crore.
The bank's origins can be traced back to 1987, when it was operating under the moniker Al-Baraka Bank. In 1994, it became a 'problematic bank'.
Then in 2004, it started functioning as a scheduled commercial bank under a new name, Oriental Bank.
The BB in June 2006 dissolved the board of directors of Oriental Bank after detecting massive corruption. To safeguard the interest of depositors, the central bank took over its full control and appointed a BB executive director as the bank's administrator.
In August 2007, the BB floated a tender to sell the majority of the bank's shares.
Two bidders participated in the tender, with Swiss ICB Group walking away with the stake. The bank was renamed as ICB Islamic Bank in 2008.