Huge loans written off to flatter balance sheets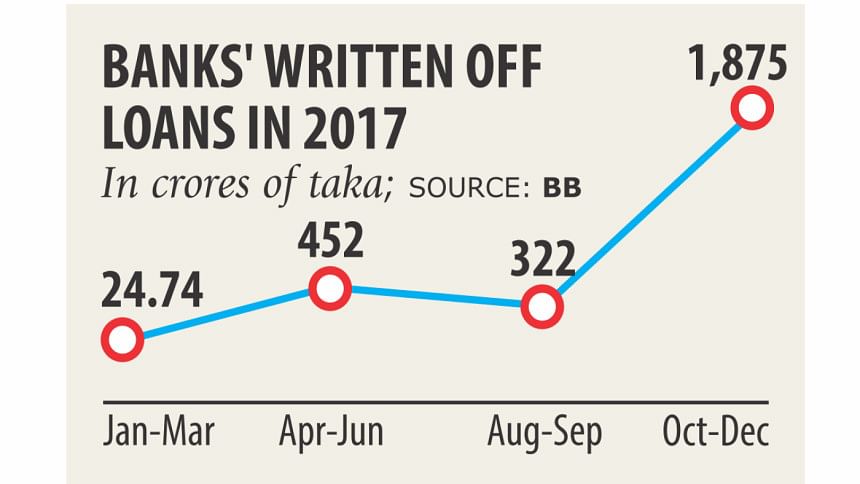 Banks made wholesale loan write-offs in the final quarter of 2017 in a bid to flatter their balance sheets and overall performance.
As much as Tk 1,875 crore was written-off between October and December of last year, in contrast to Tk 322 crore three months earlier.
Of the 25 banks that took the facility to clean up their balance sheets, AB Bank topped the chart writing off Tk 328 crore, followed by Prime Bank (Tk 206 crore) and IFIC Bank (Tk 152 crore), according to data from the Bangladesh Bank.
With the latest update, a total of Tk 48,192 crore has been written-off between January 2003 and 2017. Of the amount, 78.13 percent remained outstanding, meaning that banks' efforts to recover the loans did not pay off.
As of December last year, state-owned banks have written off Tk 22,615 crore and private banks Tk 23,992 crore.
Two state-run specialised banks, Bangladesh Krishi Bank and Rajshahi Krishi Unnayan Bank, have written off Tk 555 crore and foreign banks Tk 1,029 crore.
As per the BB norms, loans are written off after making adequate provisions to take advantage of tax benefits. But banks are obligated to continue their recovery efforts.
For writing off loans, banks have to file law suits with the money loan court (Artha Rin Adalat) against the defaulters and keep 100 percent provisioning.
The central bank in 2003 introduced the policy to show a decreased amount of default loans on banks' balance sheets.
The amount of written-off loans will increase significantly in the months to come if the central bank fails to halt the rising trend of loan default, said an official of a commercial bank.
Defaulted and written-off loans have simultaneously been increasing in the recent years on the back of banks' failure to prevent scams, he added.
Many banks tend to write off large amounts of default loans in the final quarter of a year to show a clean balance sheet, said Khondkar Ibrahim Khaled, a former deputy governor of the central bank.
"It is an unethical practice."
The banks disburse the loans by taking deposits from general clients, meaning the depositors' money is not ultimately showed in the banks' financial statements due to the practice, he said.
"Written-off loans are like uncollectible loans -- the recovery of such loans is highly difficult."
Subsequently, he urged banks to rein in corruption such that vested quarters cannot take loans banking on this unethical process.
Banks' writing off loans to clean up balance sheets is a common practice globally, said Syed Mahbubur Rahman, managing director of Dhaka Bank.
The recovery of such loans has become almost insurmountable as banks do not keep adequate collateral or take proper documentation from borrowers.
For instance, some unscrupulous borrowers kept the same property as collateral in different banks. "The disbursed loans have subsequently become defaulted and were written off," said Rahman, also the chairman of the Association of Bankers, Bangladesh, a forum of private banks' chief executive officers and managing directors.
But a strong judicial system will help banks recover the written-off loans from defaulters, he added.