How Japan's first dressmaking school changed women's lives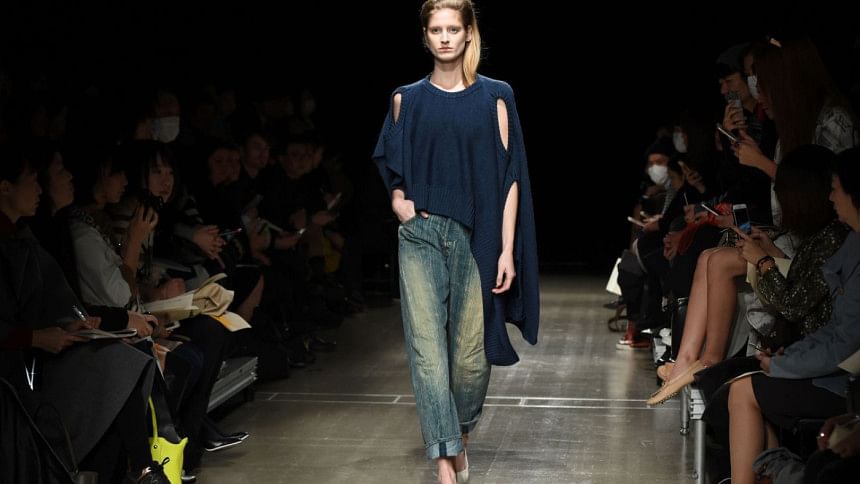 Born out of a drive to make Western-style clothing accessible, Tokyo's Bunka Fashion College unleashed a sartorial and social revolution among Japanese women after it opened nearly a century ago.
And while its current 21-storey concrete structure in the heart of Tokyo's business district doesn't scream high-fashion, it is the place to be for anyone aspiring to work in Japan's design industry.
Dressed in head-turning outfits, Bunka students -- young, confident and largely female -- make no attempt to blend in with the hordes of suited salarymen marching to work. "We are used to standing out," said 21-year-old Erika Yoshino, towering over passers-by in six-inch platform shoes.
"If you spot someone fashionable around here you just know they are from Bunka," she told AFP at the end of a long night working on her final-year collection.
Japanese fashion is now associated with cutting-edge designers -- and Bunka graduates -- like Yohji Yamamoto and Kenzo Takada.
But when Isaburo Namiki founded the country's first dressmaking school in 1923 the traditional kimono still dominated women's wardrobes.
"Western-style clothing for women wasn't very easy to find and even when you could find dresses, they didn't necessarily fit Japanese bodies well," said Samuel Thomas, lecturer at Bunka Gakuen University, the graduate school associated with the college.
In the beginning, most applicants were looking for alternatives to the complicated, layered kimono and simply wanted to learn how to make clothes for themselves.
"Bunka offered these women a chance to access the modernity represented by western clothing," Thomas told AFP.
"The change in how the body was presented -- from being wrapped in layers in a kimono to the mobility offered by a dress -- allowed women to redefine themselves," he said. Buoyed by Bunka's success, dressmaking schools sprouted up across Japan.
"After the war ended, the number of women attending dressmaking schools drastically increased," said Izumi Miyachi, deputy managing editor of Yomiuri Shimbun newspaper, referring to World War II.
"Women who had lost their husbands believed that dressmaking skills would help them support themselves," said Miyachi, who has long covered fashion.
Among the students was Fumi Yamamoto, a young war widow and single mother who opened a dressmaking shop in Tokyo after graduating from Bunka.
By 1955, Japan was home to some 2,700 dressmaking schools, up from 400 just eight years earlier, according to Miyachi. With Western-style clothing no longer a novelty, Bunka students were eager to experiment and soon, another fashion revolution was on the way with a new generation eager to make the transition from dressmaker to designer.
Many of them were the children of dressmakers like Fumi Yamamoto's son, the renowned Yohji Yamamoto, and the Koshino sisters -- Hiroko, Junko and Michiko -- whose mother, Ayako, ran a tailoring studio outside Osaka.
"For every 100 female students, there were some five male students," Hiroko Koshino told AFP in the run-up to her latest showing at Tokyo fashion week. "Boys were quiet while girls played an active role," she added.
Koshino said that she saw the fashion world as the domain of women who believed in "the idea that women can design clothes for women."
After Kenzo Takada made his debut in New York in 1970, Hiroko Koshino followed up his success by becoming the first Japanese designer to show in Rome in 1978.
Junko Koshino debuted her collection in Paris the same year while youngest sibling Michiko's trendsetting label, Michiko London, became a hit on the clubbing circuit in 1980s Britain.
Decades later, the sisters and Hiroko's daughter, Yuma, all run their own labels, responsible for businesses that span the globe -- a rarity in Japan's male-dominated society.
Women still outnumber men significantly at Bunka, where anyone who can cope with a raft of deadlines and master a demanding curriculum -- often working on a single stitch for hours until it's deemed perfect -- leaves with a degree that opens doors across the competitive industry.
"The students are held to a tough standard regardless of whether they are male or female," said Thomas, the lecturer. "That said, there are a lot of women at Bunka and it tends to be an empowering experience for them."
The ability to thrive in a high-pressure environment helps explain why many of Bunka's 300,000 alumnae -- who have their pick of applicants -- hire interns from the same pool, effectively ensuring its dominance of Japanese fashion. "Everyone remembers what it's like to go through the Bunka process, how difficult it can be, so they tend to hire people with the Bunka seal of approval," Thomas said.