How Greece is protecting its banks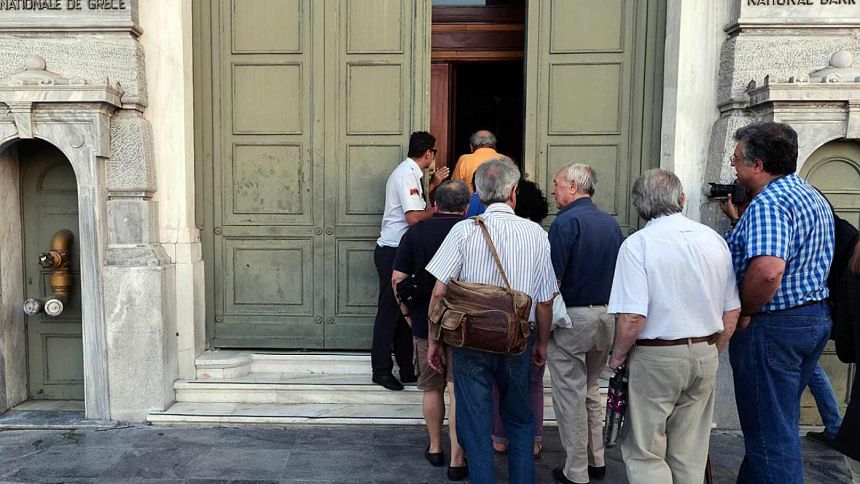 Greece introduced a raft of capital controls on June 29 to stop a panicked outflow of cash from the country's banks, in a dramatic escalation of its financial crisis.
While some of the measures have been relaxed, most Greeks remain unable to carry out various routine transactions such as transfers to bank accounts in other countries. Here is a summary of the capital controls.
LIMITS ON CASH WITHDRAWALS
After anxious customers flocked to ATMs, believing their cash might be safer under the mattress than in the banks, the government imposed a daily withdrawal limit of 60 euros ($66) per person per day. From Monday, people have been allowed to withdraw several days' worth of money at once.
Greek tourists abroad also found themselves restricted to the daily limit, and unable to use their credit cards. A government decree issued Friday stated that travelling Greeks will now be allowed to make a one-off transfer of up to 2,000 euros per trip.
Greece's powerful shipping industry on Friday won a concession on cash withdrawals, with freight companies able to withdraw up to 50,000 euros daily. Other companies will be able to benefit from similar concessions, but the Bank of Greece has yet to draw up arrangements.
TRANSFERS TO FOREIGN ACCOUNTS
Almost all transfers from Greek bank accounts to foreign bank accounts are banned. The two main exceptions are Greek students abroad, who can receive 5,000 euros per quarter, and citizens receiving medical care in other countries, who can make a one-off transfer of 2,000 euros.
Citizens are not allowed to open bank accounts in other countries.
BILL PAYMENTS TO OTHER COUNTRIES
Companies have had to get large bill payments to foreign suppliers approved by a government commission since June 29 -- a process that has slowed things down so much that some frustrated foreign companies have begun demanding payment in advance.
Professional associations have reported that thousands of shipping containers remain stuck in Greek ports due to unsettled bills.
On Friday, the government said banks themselves would now be able to authorise bill payments of up to 100,000 euros -- up from 50,000 euros -- to speed up the work of the central government commission.
Companies will also now be allowed to pay their suppliers if they hold accounts in the same bank.
BUYING SHARES
The stock exchange was suspended on June 29 and Greeks remain unable to buy shares. A decision is expected in the coming days on when the exchange can reopen.