Govt looking for other revenue sources to offset VAT rate cut: Muhith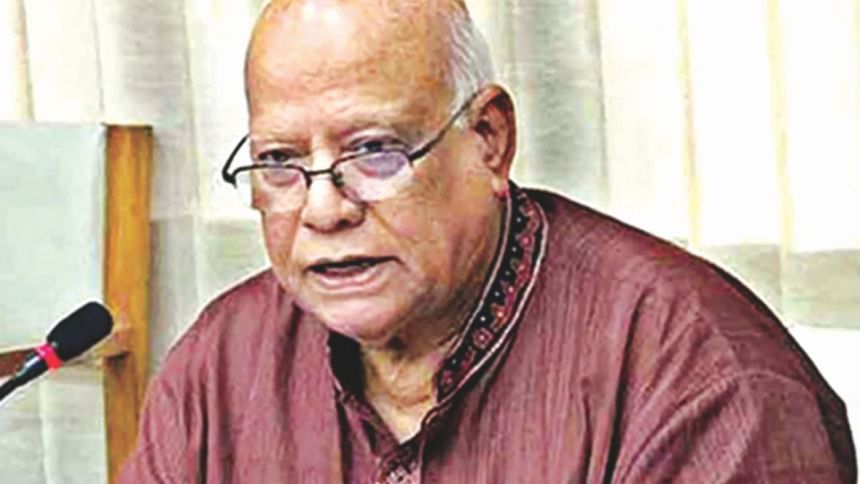 The government is now exploring other ways to make up for the revenue loss as a result of a cut in the uniform VAT rate under the new law, said Finance Minister AMA Muhith yesterday.
The law prescribes a uniform 15 percent VAT rate for most goods and services, and the government now considers reducing the rate to 12 percent amid opposition.
In such a scenario, the government would be left with a Tk 24,000 crore hole in its books.
Asked how the government would make up for the sum, Muhith told reporters at the secretariat: "That's a very big amount -- we can't do that much."
"My other reliefs are very big -- I'm looking at those now."
As an example, the finance minister cited the turnover tax. At present, businesses with annual turnover of up to Tk 80 lakh have to pay 3 percent tax.
Muhith said he was recommended to raise the threshold to Tk 1.5 crore from Tk 80 lakh.
"If I give Tk 1.5 crore it would leave out lots of people out of the tax net," he said, while hinting that he would raise the ceiling to over Tk 1 crore but lower than Tk 1.5 crore.
The finance minister went on to assure that the VAT rate will be set at a level that will give comfort to the business community.
He however quashed any hopes of continuation of the existing multiple VAT rates, as demanded by the business community, beyond July 1.
In that case, new software need to be procured, which is not possible. All disputes regarding the new VAT law will be finalised at today's meeting with Prime Minister Sheikh Hasina, he added.