Govt to build 520 upazila bazaars at Tk 1,730cr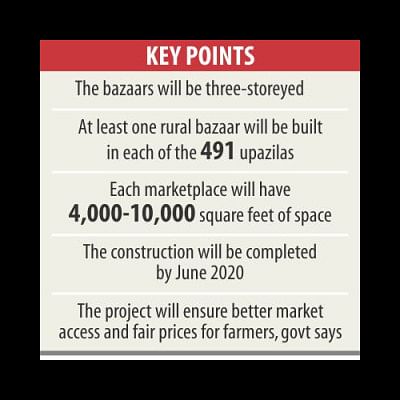 The government is going to build 520 three-storey rural bazaars at upazila-level at a cost of Tk 1,730 crore in order to provide farmers with better market access and fair prices.
The Executive Committee of the National Economic Council (Ecnec) approved a project titled Rural Bazaars Infrastructure Development. The construction of the bazaars will be completed by June 2020.
Under the project, at least one rural bazaar will be built in each of the 491 upazilas in the country. Each marketplace will have 4,000-10,000 square feet of space.
After the Ecnec meeting, Planning Minister AHM Mustafa Kamal said the rural economy will be vibrant once the project is implemented as they will offer better market access and fair prices to farmers.
There would be a separate zone for female buyers and sellers in the markets, he said.
According to the planning ministry proposal, farmers are forced in the present marketing system to sell their produce to middlemen at the farm-level. As a result, they are deprived of fair price.
If the rural bazaars are set up, farmers will be able to sell their commodity at fair prices, it said. 
The Ecnec also gave nod to the first revision of the "Construction of apartments for low and middle income people in Uttara sector-18" at a cost of Tk 10,902 crore. The project's original cost was Tk 9,031 crore, meaning the expenditure is going up by 21 percent.
Under the project, 15,036 flats will be built, of which 11,004 will be of 1,250 square feet and 4,032 of 1,050 square feet.
Kamal said Prime Minister Sheikh Hasina directed to build another 1,000 flats of 850 square feet for the low and middle income groups.
The Ecnec approved a solid waste collection and disposal management project of the Narayanganj City Corporation for Tk 191 crore.
The other projects approved in the meeting include the Jamalpur-Kalibari-Sarishabari road widening and strengthening project costing Tk 220 crore; infrastructure development of different areas under Chittagong City Corporation at Tk 120 crore; the first revision of the second phase of the Secondary Education Stipend of Tk 1,330 crore; and the construction of Bakerganj-Barguna 132 KV transmission line and Barguna 132/33 KV power substation with Tk 143 crore.
The Ecnec approved a proposal for the Tk 585 crore "Bangladesh Regional Communication Project-1: National Single Window Implementation and Customs Modernisation Strengthening" project to provide services related to import and export from a single window.
Once fully operational, the system will allow traders to submit all import, export and transit information required by customs and other key regulatory agencies via a single electronic gateway instead of submitting essentially the same information numerous times to different government agencies, many of which still rely heavily on paper-based processing-systems.
Of the total cost, World Bank will provide Tk 529 crore and the project will be implemented by June 2020.
According to WB documents, though significant trade liberalisation has taken place in Bangladesh since the early 1990s, the procedures for clearance of import‐export cargo at borders remain cumbersome and are saddled with numerous documentation requirements and poor levels of inter‐agency collaboration.
These inhibit trade and raise transaction costs for the trading community, as the system is fraught with duplication and inefficiencies, said the global lender. 
Bangladesh has committed to implementing a national single window system and the associated reform and modernisation of customs and other border management agency requirements in line with international standards and national commitments.