Sri Lanka showcases trade, tourism, investment opportunities in Dhaka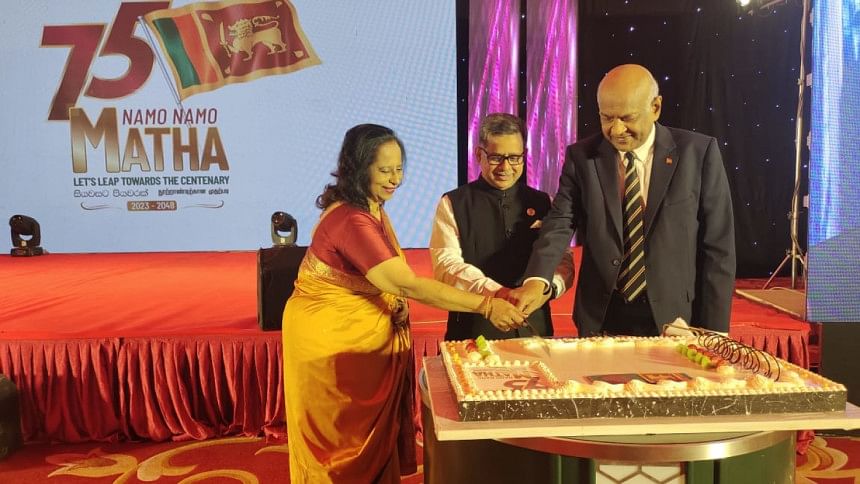 The High Commission of Sri Lanka in Dhaka together with the Sri Lankan expatriate community and associations organised an evening programme today at the Dhaka Sheraton to showcase trade, investment, and tourism opportunities in Sri Lanka
The High Commission of Sri Lanka in Dhaka together with the Sri Lankan expatriate community and associations organised an evening programme today at the Dhaka Sheraton to showcase trade, investment, and tourism opportunities in Sri Lanka. 
The event, attended by diplomats, government officials, corporate sector workers, and travel agents, was organised in line with the celebration of the 75th Anniversary of the independence of Sri Lanka. 
State Minister of Civil Aviation and Tourism of Bangladesh Mohamed Mahbub Ali graced the occasion as the chief guest, said a press release. 
Addressing the event, High Commissioner Sudharshan Seneviratne highlighted the importance of enhancing bilateral economic cooperation between Bangladesh and Sri Lanka and invited the Bangladesh corporate sector to explore the opportunities available in Sri Lanka. 
In celebrating the 75th anniversary of the independence, State Minister of Civil Aviation and Tourism Mohamed Mahbub Ali recalled the long-standing friendly relations between the two countries and expressed his willingness to enhance bilateral ties between the countries.   
The attendees of the event were enthralled with traditional cultural dance numbers, performed by the Channa-Upuli Performing Arts Foundation. 
A number of video presentations on culture and diversity, tourism, trade and investment were showcased at the event.
The participants were also introduced to a variety of Sri Lankan cuisine, including traditional delicacies and sweets. 
The event was held with the support of SriLankan Airlines, Sri Lankan corporate organisations, the Sri Lanka Association in Bangladesh (SLAB), the Sri Lanka Bangladesh Chamber of Commerce and Industry (SLBCCI), and the Sri Lankan community residing in Dhaka.