Pakistan's economic woes leave textile industry in tatters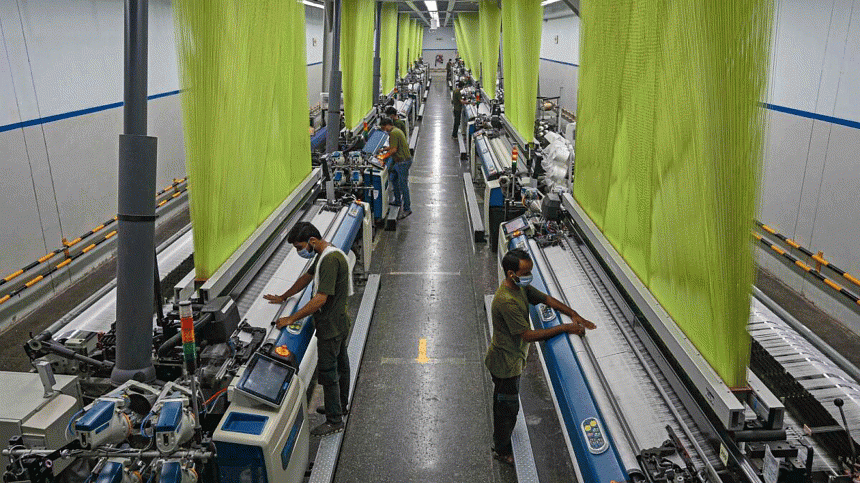 Factory worker Lubna Babar was made redundant at the beginning of the year, a victim of a crisis in the Pakistan textile industry that has seen it lose ground to more nimble Asian competitors.
"When you lose your job, your life comes to a close," the 43-year-old from Lahore told AFP.
"We've been working in factories for years... the day you get sacked, the story ends there."
Pakistan's industrial manufacturing sector -- like elsewhere in the world -- has suffered from the slowdown in global consumption and the rise in energy costs following the outbreak of war in Ukraine.
But the difficulties of the textile sector, which accounts for 60 percent of Pakistan's exports, are compounded by the critical state of the economy and months of political chaos.
In Pakistan, the industry was buoyed at the tail end of the coronavirus pandemic, when it was freed of restrictions earlier than regional rivals India and Bangladesh and benefited from government financial aid, including slashed energy rates.
In 2022-2023, however, textile exports fell by 15 percent to $16.5 billion.
"Two years ago, we were on a very high growth trajectory... we were confident that our exports this year would go to $25 billion," said Hamid Zaman, managing director of Sarena Textile Industries.
"Unfortunately, when you have political instability and things are not clear, and the policies of the government are reversed, this whole thing has gone into a tailspin," he told AFP.
The political chaos started in April last year, when Imran Khan was dismissed as prime minister by a vote of no-confidence.
His attempts to parlay popular public support into a movement to force an early election saw him arrested in May, leading to violence that only ended with a massive crackdown on his party and its supporters.
He was convicted of graft on Saturday and sentenced to three years in jail.
The textile and clothing sector employs around 40 percent of the country's 20 million-strong industrial workforce.
The main export markets are the US, EU, the UK, Turkey, and the UAE, supplying cotton fabrics, knitwear, bed linen, towels, and ready-made garments to global brands such as Zara, H&M, Adidas, John Lewis, Target and Macy's.
But many factories have closed in recent months -- at least temporarily -- or are no longer running at full capacity.
"Perhaps 25 to 30 percent of all textile factories have closed. It is estimated that perhaps 700,000 jobs have been lost in the last year or year and a half," said Zaman.
Babar felt this keenly, having looked for work at other factories -- but they were also laying off employees.
"They said they were no longer receiving orders from abroad," she said.
After devastating floods in the summer of 2022, cotton production in Pakistan fell to an all-time low.
The textile industry was unable to compensate by buying from abroad because of a freeze on imports imposed by the government to preserve its forex reserves.
Thousands of containers filled with raw materials and machinery essential for the country's industries were held up for months in the southern port of Karachi.
Textile companies also saw the cost of capital rise significantly, contending with interest rates of more than 20 percent as the central bank sought to curb record-breaking inflation.
Pakistan finally managed to consolidate its foreign exchange reserves with the approval in mid-July of a $3 billion loan from the International Monetary Fund (IMF) and additional assistance from China, Saudi Arabia and the United Arab Emirates.
"But that's not a solution, it's just getting deeper and deeper into debt," said Kamran Arshad, managing director of Ghazi Fabrics International.
"The only way forward is enhancing Pakistan's exports and creating an environment that is investor-friendly that would incentivise industrial production and activity," he added.
One of the conditions of the IMF bailout was an end to subsidies on energy, leading to a sharp rise in the cost of electricity, which affects the competitiveness of textile companies.
"Our biggest challenge going forward is having energy prices that are substantially higher than those of India, Bangladesh, Sri Lanka, Vietnam and China," said Arshad.
"We're not asking for subsidies. Realistically we are asking for regionally competitive energy prices."
In the face of these challenges, the country's textile manufacturers have lost customers globally.
"Pakistan's overall market share in the textile and garment industry was nearly 2.25 percent about two years ago. Now it's down to around 1.7 percent," said Aamir Fayyaz Sheikh, CEO of Kohinoor Mills.
Sheikh sees some hope if the political situation settles following an election due before the end of the year.
"After the elections there will be more political clarity and that will help bring more economic stability," he said.
But for ordinary workers like Babar, there is little light at the end of the tunnel.
"Life is getting harder every day," said the mother of three.
"We cook once and make it last for two days. And if we don't have any food, we make do, without complaining."