Lankan inflation halves to 4.6%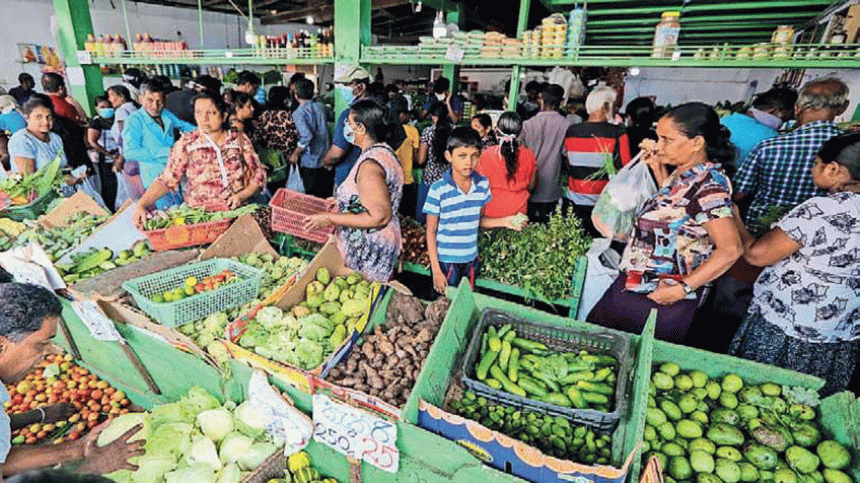 Sri Lanka's consumer inflation rate more than halved to 4.6 percent year-on-year in July, helped by falling food prices, the statistics department said on Monday.
The National Consumer Price Index (NCPI) captures broader retail price inflation and is released with a lag of 21 days every month. In June consumer inflation stood at 10.8 percent. Food prices fell 2.5 percent in July from a year earlier, after rising 2.5 percent in June year-on-year, the Department of Census and Statistics said in a statement.
Prices for non-food items rose 10.9 percent in July after rising 18.3 percent year-on-year in June.
Since June, Sri Lanka's inflation has come down sharply from the runaway levels seen earlier, partly due to the statistical base effect, but also helped by a stronger rupee currency, which has lowered the costs of fuel, power and imported food.
Sri Lanka's $2.9-billion bailout secured from the International Monetary Fund (IMF) in March has topped up foreign reserves, which had dwindled to record lows in early 2022, plunging the island into its worst financial crisis in more than seven decades.
"Inflation is likely to remain under 5 percent, largely because of the high base effect. We are unlikely to see demand side pressures that could push up inflation in the next few months," said Udeeshan Jonas, chief strategist at equity research firm CAL.
Encouraged by inflation easing faster than expected, Sri Lanka's central bank cut policy rates by a combined 450 basis points in June and July this year, after raising them by a record 1,050 basis points between April 2022 and March this year.
The Central Bank of Sri Lanka (CBSL) is expected to keep rates unchanged at a meeting on Thursday, analysts said but may continue easing interest rates later in the year to improve growth.
The crisis-battered economy is still expected to contract by 2 percent in 2023 after shrinking 7.8 percent last year.