Global cotton production to fall: US report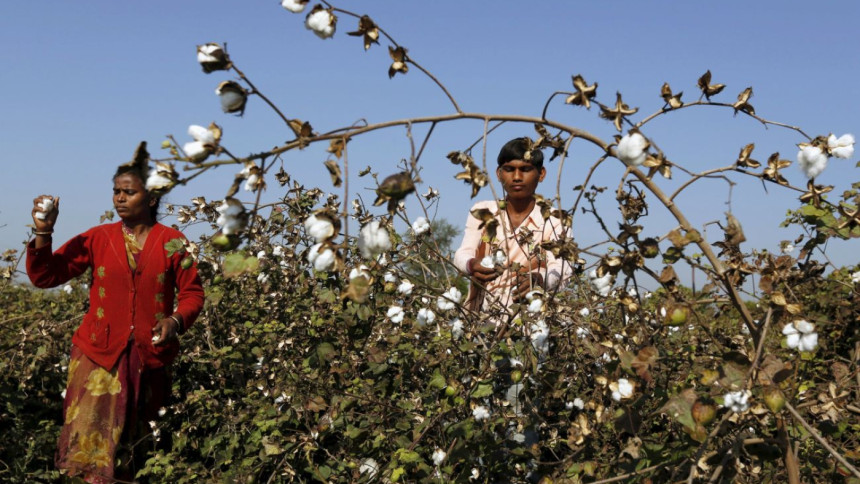 Global cotton production will fall 5 percent year-on-year to around 113 million bales in 2015-16 mainly due to a drop in cultivation in China, a major producer, according to the United States Department of Agriculture.
"Production is expected to remain flat or decrease for all major producers, with the largest reductions of about 2 million bales each expected for the United States and China," a recent report of the USDA said. 
China's production is expected to fall to 28 million bales (480 pounds make a bale) as producers respond to the government's new policies.
Responding to sharply lower prices, world consumption is projected to exceed production by three million bales in 2015-16, drawing world stocks down to 107 million bales, the equivalent of 92 percent of projected global consumption, the report said.
However, Hissam Khandker, director of Delcot Enterprises, a leading cotton importer, said Bangladesh will not be affected by the drop in production due to the existing high stocks held globally and locally.
Cotton consumption in Bangladesh will continue to grow as more spinning mills are being set up and the demand for yarn increases from domestic weavers and knitters, he said.
"There is a large stock of cotton globally, which will exceed consumption despite lower productions this year. The prices of cotton will not be affected even in the next year as we have enough stocks," he said.
Bangladesh's cotton consumption will rise 4.08 percent in fiscal 2015-16, riding on higher demand from local spinners and foreign investors in the textile sub-sector, London-based Economist Intelligence Unit (EIU) said in a forecast.
Consumption will increase to 1.02 million tonnes despite poor safety standards, mainly due to a shift in investment in the textile sector from India and China, the EIU said.
In Bangladesh cotton imports registered 8 percent growth to 5.6 million bales in fiscal 2013-14 and 6 percent the previous year.
Currently, Bangladesh imports around $2 billion worth of cotton a year, according to Bangladesh Textile Mills Association.
In recent times, cotton prices in the international markets declined significantly due to the release of older stocks by China, the largest cotton-consuming country. The current prices are at a five-year low of 60-65 cents per pound.