World Bank's pension investments clash with principles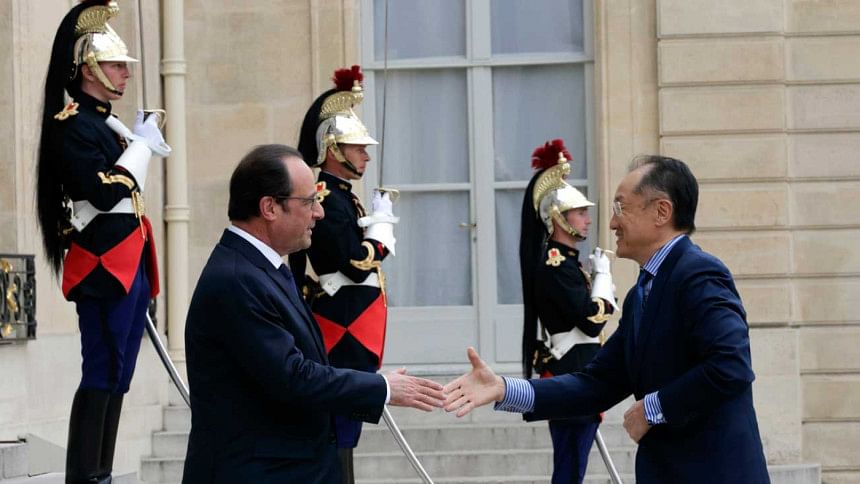 The World Bank indirectly invests part of its $18.8 billion staff pension fund in companies in industries such as coal and tobacco, holdings that clash with the development institution's own calls for ethical and low-carbon investing.
In an internal post to staff seen by Reuters, the World Bank's treasurer said around 40 percent of the fund's equity holdings are actively or passively invested against equity index funds, which include companies in industries associated with environmental and health problems.
Two World Bank sources, who asked not to be identified, showed Reuters discussions between staff and managers on an internal site and a research note produced by employees. The note expressed concern about the pension and gave details of the holdings, questioning why the bank does not use socially responsible alternatives.
In its own lending practices across the developing world, the bank refuses to invest in tobacco production and has banned financial support for the construction of coal-fired electricity except for the poorest countries that lack other options.
The Washington-based bank's pension fund, details of whose holdings have not previously been reported, was ranked a "laggard" in transparency and managing climate risks in a report released this week by the Asset Owners Disclosure Project, which pushes asset owners to address climate change risks. It ranked lower than the pension funds of companies including British Coal and the state oil fund of Azerbaijan.
"It's very difficult for the bank to take a position where it is promoting sustainable growth and not managing the risks in their large portfolio - or telling anyone about it," said Julian Poulter, chief executive of the initiative.
While the pension fund is required to prioritize financial gains for staff, investment analysts said it could be directed into pre-screened or tailored funds that exclude companies that fail to follow sound environmental, social and governance (ESG) principles.
The bank's pension fund assets are held in a separate legal trust administered by its Pension Finance Committee (PFC), chaired by the World Bank's chief financial officer and including a mix of members from management, staff and retirees. External managers run the funds on a day-to-day basis. The PFC did not respond to Reuters request for comment.
The World Bank has a responsibility to manage the money "in the best interest of plan beneficiaries," the bank said in a statement to Reuters.
The bank said it does not comment on specific pension investments, adding that it opts for a "principled yet pragmatic approach" within the fund's overall requirements that considers ESG risks and opportunities "where material and relevant."
That is guided by federal law that requires a plan's investment policy to have the "exclusive purpose" of providing benefits to participants, though pension providers have flexibility on which investment principles to pursue.
The bank has called on others to divest from fossil fuel companies and its president, Jim Yong Kim, has asked long-term investors "to recognize their fiduciary responsibility" to reveal their exposure to climate change-related impacts.
The bank is conducting a review of its corporate sustainability policies, but says its pension fund investments are not included in that process because they have a separate governance structure.
Participation in the pension fund - a combination of defined benefit and 401k-style savings - is mandatory for World Bank employees. It has about 15,000 current employees and around 10,000 retired beneficiaries.
Not all beneficiaries are calling for change. Kenneth Lay, the vice president of the World Bank alumni group - the 1818 Society - said the fund should focus on maximizing returns.
While there is some evidence ESG investment can improve "risk adjusted performance," he said, "there is also extensive literature reaching the opposite conclusion."
Some of the pension's holdings are invested in the Russell 3000 index, which tracks 3,000 companies including coal producers Peabody Coal and Arch Coal and tobacco giant Philip Morris, according to the employees' research note.
Others are invested in funds tied to Morgan Stanley's MSCI index, which includes major fossil fuel companies like ExxonMobil, according to that note.
MSCI and other indexes offer portfolios that screen out companies in industries with perceived ethical problems.
Some of these funds have performed as well or better than the bank's current investments. The MSCI's two Fossil Fuels Exclusion Indexes have outperformed the main MSCI index for the past three years, according to annual performance fact sheets.
In its statement to Reuters, the bank said were it to consider such funds it "would have to be convinced of their superior return and risk properties in order to make the investment consistent with fiduciary responsibilities."
In a blog post on the bank's in-house Web site last October some employees argued that the bank's target of 3.5 percent annual real returns could be met through socially responsible investments, and raised concerns that the bank's pension investments contradict its public mission.
Bank employees have investment choices within their plans, but none offer ethical alternatives, they said.
In response, Madelyn Antoncic, treasurer of the World Bank, posted that "things aren't always black and white." She cited the case of a bio-medical subsidiary of tobacco company Reynolds American Inc. which is working to develop a vaccine for the Ebola virus from modified tobacco leaves.
Antoncic, who oversees more than $140 billion in World Bank assets as well as the pension fund, said that 60 percent of the plan's equity holdings are in separately managed accounts.
Several other large pension funds have shifted toward more ethical investments.
Norway's $850 billion Government Pension Global Fund, the world's largest sovereign wealth fund, announced in February that it had moved out of companies connected to Alberta's oil sands and gold miners. And the $53 billion staff pension fund of the United Nations invested in two low-carbon funds by BlackRock and State Street last December.
"Just two years ago, investments that met ESG principles were the domain of smaller funds; now interest has spread to the largest pension schemes in the world," said Kevin Bourne, a managing director of ESG at the FTSE Group, which last year acquired Russell Investments, creator of the Russell 3000 index.