Countries need more than money to cope with shocks: Report
Bhutan top in South Asia, 43rd in the world

Bangladesh ranks 97
Sweden, the Netherlands and Germany are among the best placed wealthy countries to cope with shocks like large-scale migration due to their strong safety nets, education programmes and economic opportunities, said a global report by KPMG.
Switzerland took first place overall in KPMG's "Change Readiness Index," which measures the ability of 136 countries to respond to shocks and long-term trends, such as natural disasters, economic crises and climate change.
SEE INFOGRAPHICS: 2017 Change Readiness Index key findings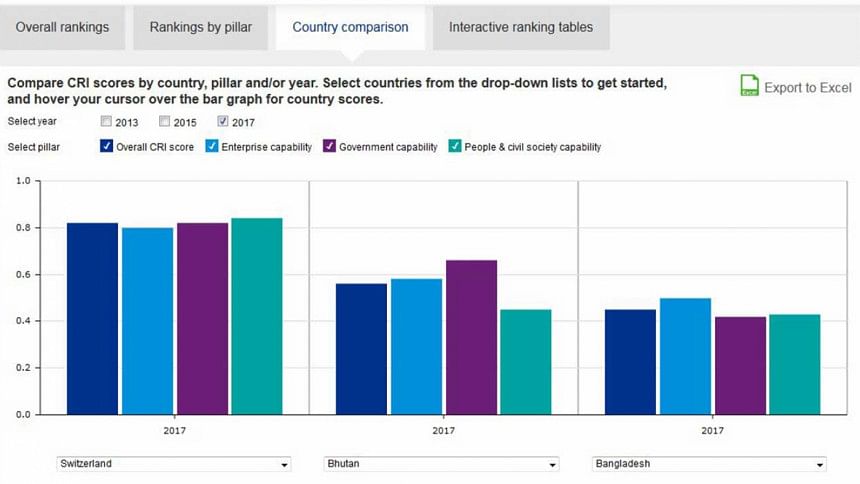 Britain, in the early stages of Brexit negotiations to leave the European Union, moved into the top 10. The United States moved up eight places to 12, while Syria and Somalia ranked bottom of the list.
"The countries that tend to be doing better are the ones who have a more inclusive approach to growth," said Trevor Davies, global head of KPMG's International Development Assistance Services.
"There's increasing expectations by citizens who are increasingly better educated, better informed, more engaged, they want to see greater equity," he told the Thomson Reuters Foundation.
The biennial index by the accounting and advisory firm analyses the capacities of business, government and civil society, with findings highlighting areas that need improvement - potentially helping policy makers, companies and aid donors, said Davies.
When it comes to migration, national income alone is not a clear indicator of a country's capacity to accommodate new arrivals, with Spain and Greece struggling to cope, according to the report.
It said Jordan and Lebanon lacked sufficient capacity to absorb refugees, which also proved a major strain for Chad.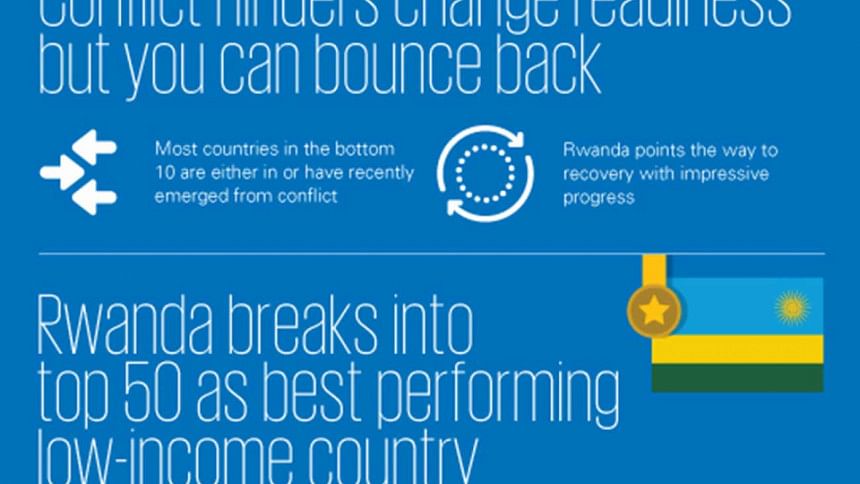 Among African countries, Rwanda was "punching very much above its weight," with a focus on strengthening its economy and governance helping push it to number 43, above Greece.
Chad, Sudan and South Sudan ranked among the five countries least able to cope with shocks.
Oil-rich Nigeria's position at 120 demonstrated "wealth in itself is not enough" to prepare countries for change, said Davies, noting it has failed to cut poverty or create enough jobs for its growing population.
High levels of inequality limit the capacity of Latin American countries to respond to shocks, Davies said. While high-income Chile and Uruguay both ranked among the top 30, Mexico stood at 71 and Brazil at 79, with Venezuela languishing at 119 and Haiti at 123.
"Income inequality is one of the key factors that's holding back a number countries. The countries towards the top of the index that have greater income equality are certainly more prepared for change as they have a greater degree of flexibility in the economy," said Davies.
In Asia, Singapore slipped from the global top spot to number four, while Japan stood at 21 and China at 36.
Afghanistan ranked lowest among Asian countries for its ability to respond to shocks at 127.
While Asia's enterprise sector was strong, countries needed to ensure the benefits of growth were better spread across society, said Davies. The region faces complicated demographic challenges with Japan's population ageing and India's yet to peak.