Bangladesh, an example for other Asian countries: ADB chief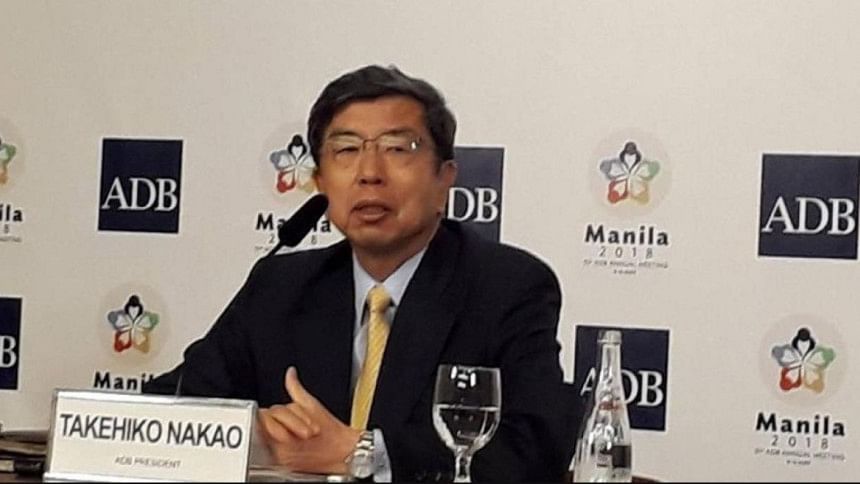 ADB President Takehiko Nakao yesterday appreciated the economic growth Bangladesh has achieved in the recent years, saying "the success stories of the country can be a very good example for other Asian countries".
Industries like readymade garments, commitment to better education and stable economy played the key role in having an impressive growth in Bangladesh in the past years, Nakao said.
He told news agency UNB at a press conference at the headquarters of the Asian Development Bank (ADB) in Dhaka.
"We're supporting Bangladesh in many areas, including infrastructure, water and Dhaka city projects," he said adding that there is a very good example of progress in infrastructure projects.
The ADB chief said they are providing support for education sector to bring in more scientific and ICT-related education.
"We're also providing support [to ensure] better workplace through our technical assistance."
He said their lending to Bangladesh is "very strong" and will continue that support. He mentioned that many countries, including Bangladesh, were poor when the ADB was established.
This high economic growth has enabled Bangladesh to attain the middle-income status in July 2015 and helped cut poverty from about 49 percent in 2000 to 24 percent in 2016.
Nakao visited Bangladesh in February this year and had meetings with Prime Minister Sheikh Hasina, Finance Minister AMA Muhith and other senior officials during the three-day visit when he committed to further strengthen ADB's 45-year partnership with the country.
 Asked about his meeting with Muhith, Nakao said: "I'm looking for further discussions with Bangladesh."
Muhith is scheduled to have a meeting with Nakao on Sunday.
On Rohingya issue, the ADB president said they are aware of the humanitarian aspect of the refugee crisis and the impact the Rohingya influx would leave on Bangladesh economy.
"We're prepared to support them. We're waiting for their (Bangladesh-Myanmar) requests."
During his recent Bangladesh visit, Nakao commended the way Bangladesh handled the situation that has seen an influx into its borders of over 700,000 people from Myanmar since August 25, 2017.
Nakao reiterated ADB's offer of support to help the government address the crisis, if requested.
ADB's Country Partnership Strategy for Bangladesh proposes total assistance of $8 billion, including for non-sovereign operations, during the period of 2016-20, which is 60 percent up from $5 billion in 2011-15.
In 2016-17, the ADB approved $2.5 billion in sovereign and $600 million in non-sovereign assistance.
To support government efforts, the ADB will provide additional resources depending on need, performance of ongoing projects and readiness of new projects.
Bangladesh joined the ADB in 1973 and became its first member in 1982 to host a field office.
To date, more than $20 billion in ADB loans, grants, and technical assistance has been approved for Bangladesh.
The approved non-sovereign loans, equity investments and guarantees have totalled $985.28 million.