GDP growth to be 6.9pc this year: IMF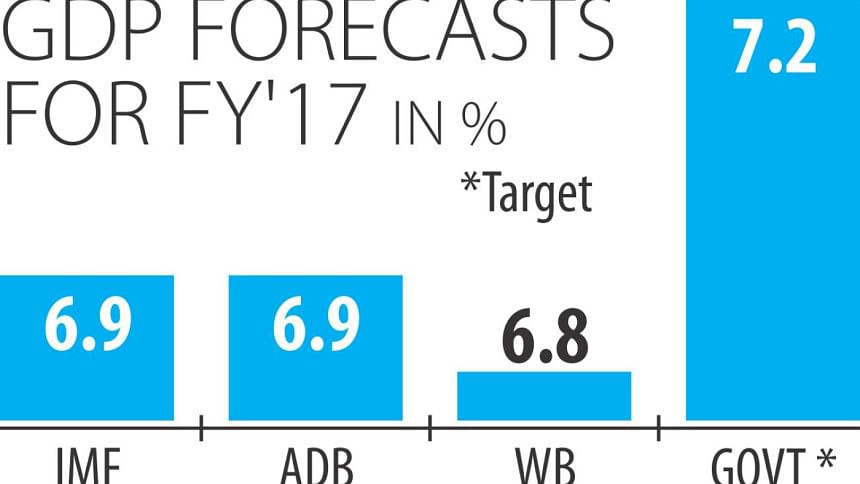 Bangladesh's economy will grow by 6.9 percent this fiscal year despite the subdued global growth, said the International Monetary Fund.
The economy would grow 6.9 percent next fiscal year as well, IMF said in its October 2016 World Economic Outlook, which was released in Washington on Tuesday.
The IMF projection matches other multilateral lenders' and is close to the government's target for fiscal 2016-17.
On Monday, the World Bank projected that Bangladesh's economy would grow at 6.8 percent this year.
In late September, the Asian Development Bank forecasted that the country's gross domestic product would expand 6.9 percent.
The government's target of GDP growth for the current year is 7.2 percent. The economy is estimated to grow 7.05 percent in the last fiscal year, despite slow private investment and weak remittances.
Global economic growth will remain subdued this year following a slowdown in the US and Britain's vote to leave the European Union, the IMF said.
The world economy will expand 3.1 percent this year, the IMF said, which is unchanged from its July projection.
Next year, growth will increase slightly to 3.4 percent on the back of recoveries in major emerging markets, including Russia and Brazil.
In South Asia, India's GDP is projected to expand 7.6 percent this year and the next -- the fastest among the world's major economies.
In Pakistan, economic activity is projected to gradually accelerate over the medium term, reaching 5 percent in 2017, following 4.7 percent projected growth in 2016.
Sri Lanka's economy would expand by 5 percent in both 2016 and 2017.
Nepal's growth in the current fiscal year would rebound by only 4 percent.
"Taken as a whole, the world economy has moved sideways," said IMF Chief Economist and Economic Counsellor Maurice Obstfeld.
"We have slightly marked down 2016 growth prospects for advanced economies while marking up those in the rest of the world," he said in a statement.
Given the still weak and precarious nature of the global recovery, and the threats it faces, the IMF underscored the urgent need for a comprehensive, consistent and coordinated policy approach to reinvigorate growth, ensure it is distributed more evenly and make it durable.
To support growth in the near term, the central banks in advanced economies should maintain easy monetary policies, the IMF said.
But monetary policy alone will not restore vigour to economies dogged by slowing productivity growth and aging populations, according to the new report.
"Where possible, governments should spend more on education, technology and infrastructure to expand productive capacity while taking steps to alleviate inequality."