Garment makers dreading order drought from June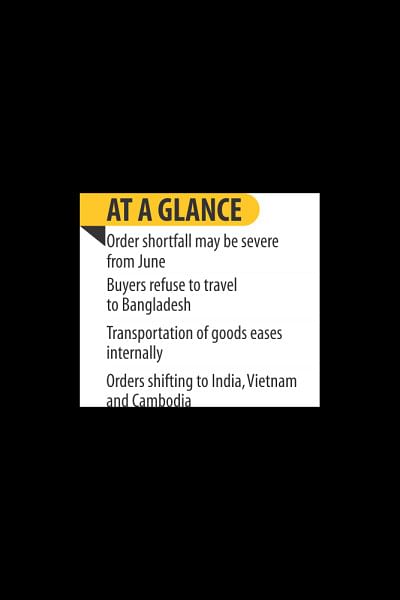 Garment makers are dreading a significant drop in work orders from June as retailers refuse to travel to Bangladesh for the political turmoil since January 6.
The retailers or their representatives were due in January and February to have a look at the factories and put in work orders for the summer but they did not come, said Shahidullah Azim, vice-president of Bangladesh Garment Manufacturers and Exporters Association.
Although the internal situation like transportation of goods from factories to Chittagong port and from the port to the factories has improved, the retailers are still shying away from the country. 
Rather, they are calling the garment makers to a third country like Thailand, Hong Kong or India to hold meetings, he said.
In the monthly buyers' forum meeting, held in Dhaka on March 2, the retailers said they are not placing the full order volumes fearing further volatility of the political situation.
In some cases, they are slashing the orders by more than 30 percent and diverting them to Vietnam, Cambodia and India.
The retailers who attended the meeting account for $22 billion of the sector's $25 billion annual exports, according to Azim.
"So, we will face an order shortage after June," the BGMEA vice-president added.
David Hasanat, managing director of Viyellatex, a leading garment group, said the retailers that have full-fledged offices in Dhaka are placing orders in high volumes though. 
But the majority of the retailers do not have such arrangements and they are the ones that are slashing the orders, he added.
Bakhtiar Uddin Ahmed, general manager of Fakir Apparels Ltd, a Narayanganj-based garment manufacturer, said he had a meeting in Hong Kong last week that was supposed to be held in Dhaka, as the retailer refused to travel to Bangladesh.
Ahmed also agreed that the internal situation has improved a lot as they can carry goods easily from one place to another. For instance, he can now ship three lakh pieces of garment products from Narayanganj to Chittagong port a day without any problem.
But, the foreign retailers are still cancelling their trips to Bangladesh for apprehension of arson attacks and violence -- and using that as an excuse to cut down their orders, he said.
The blockade and shutdowns imposed by the BNP-led alliance have already crossed the two-month mark.