Garment exports grow 4pc, but miss target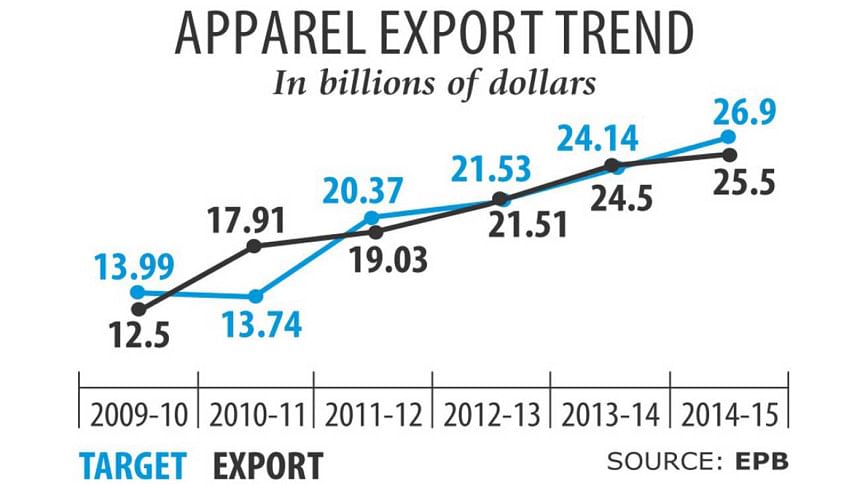 Garment exports grew 4.08 percent to $25.5 billion in fiscal 2014-15, according to data from the Export Promotion Bureau.
Knitwear exports increased 3.13 percent year-on-year to $12.42 billion while woven shipments grew 5 percent to $13.06 billion in the immediate-past fiscal year.
Export earnings from the apparel sector were 5.24 percent below the annual target of $26.9 billion.
Over 80 percent of the country's export earnings come from the garment sector, which was able to reach its target of annual export earnings once—in 2013-14—in the last four years.
Atiqul Islam, president of Bangladesh Garment Manufacturers and Exporters Association, blamed the fall in earnings on the shipping problems caused by the political crisis in January-March.
Moreover, the devaluation of major currencies—dollar, Russian ruble and euro—is also responsible for the shortfall in target exports, he said.
Small and medium factories that are housed in shared buildings saw a fall in work orders after the Rana Plaza building collapse, Islam said.
Overall exports rose 3.35 percent year-on-year to $31.2 billion in 2014-15, though the amount was well below the year's target of $33.2 billion.
Exports surged in June, the last month of the fiscal year, fetching $3.04 billion, which is an increase of 7 percent from the previous month and an 8.68 percent growth from a year earlier, according to the government data.
Jute and jute goods exports grew 5.34 percent year-on-year to $868.53 million, home textiles 1.49 percent to $804.34 million, and leather and leather goods 0.56 percent to $1.13 billion.
Frozen foods declined 10.99 percent year-on-year to $568.03 million and furniture fell 8.55 percent to $38.94 million in fiscal 2014-15.