Garment exporters going green to grab more orders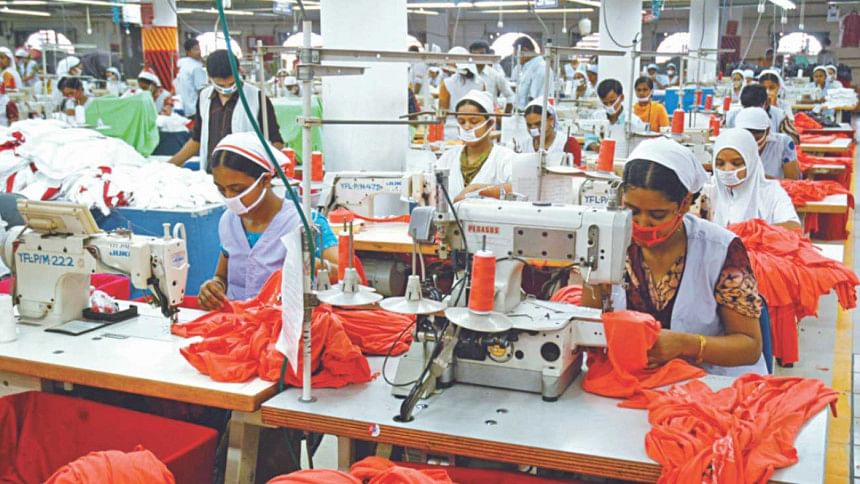 Bangladesh's garment sector is moving towards green building initiatives to impress the growing tribe of eco-minded international retailers, and in the process, grab more work orders.
So far, 14 garment factories from Bangladesh have received LEED (Leadership in Energy and Environmental Design) certification from the United States Green Building Council, according to Bangladesh Garment Manufacturers and Exporters Association.
Of the factories, five were conferred the platinum status, five gold, one silver and the other three received just the normal certification from the US agency.
Fifty more factories are in queue to receive the LEED certification, as they have already passed the selection criteria, according to BGMEA.
LEED is a green building certification programme that recognises the best-in-class building strategies and practices.
To receive LEED certification, building projects must satisfy prerequisites and earn points to achieve different levels of certification.
Prerequisites and credits differ for each rating system, and teams choose the best fit for their project.
By the end of 2016, more than 150 factories are expected to be given the LEED certification, according to Shahidullah Azim, vice-president of BGMEA.
The construction of more green factories means higher export growth of garment items from Bangladesh, he said.
The factory owners, especially those who are expanding their operations, are going for green buildings, mainly to bag more work orders from international retailers.
The benefits of green buildings are quite long, including reduction of energy consumption by more than 24 percent and water consumption by 50 percent.
Since Bangladeshi garment makers are going for high-end garment production, green initiatives will help a lot in building their confidence, as LEED certification indicates practice of good compliance and environmentally safe procedures, Azim said.
The other direct benefits of green buildings include enhancement of image of the factory, protection of health and safety and higher productivity by the workers in a good environment.
In Bangladesh, green building initiatives are mainly undertaken for marketing reasons, as having such structures increases the confidence of retailers, said David Hasanat, managing director of Viyellatex Group that has operations in two gold LEED certified buildings.
"The retailers do not ask so many queries if they see that the goods were made in a factory housed in a green building," he said, adding that the company could reduce electricity and water consumption due to the green building initiative.
"I could also maintain the air quality for efficient use of energy and water."
Fazlul Hoque, managing director of Narayanganj-based Plummy Fashions, said he received the platinum LEED certification after scoring 93 from the available 110 points.
The plant will be the first LEED platinum factory in the world in knitwear sub-sector, Hoque said, adding that he will start production in the structure by this month.
There are two LEED platinum factories in Sri Lanka, but they are not in the knitwear business.
The establishment of such high-quality green structure has opened up new avenues for Hoque, as he is currently in talks with Marks & Spencer, Espirit, Li & Fung and Carrefour, some renowned global retailers.
Zillur Rahman, managing director of Ishwardi EPZ-based Vintage Denim Studio, said his factory is also a platinum-rated building in denim sub-sector, after it scored more than 90 points.
"I started the operations of the factory three years ago and now I have been receiving overwhelming responses from retailers in Europe and the US due to the green initiative," said Rahman.
He produces 4.5 lakh pieces of denim products a month, while employing 2,000 workers. "I could save a lot of electricity and water due to the green building."