Fast-track factory safety efforts
Analysts say at roundtable organised by BGMEA and The Daily Star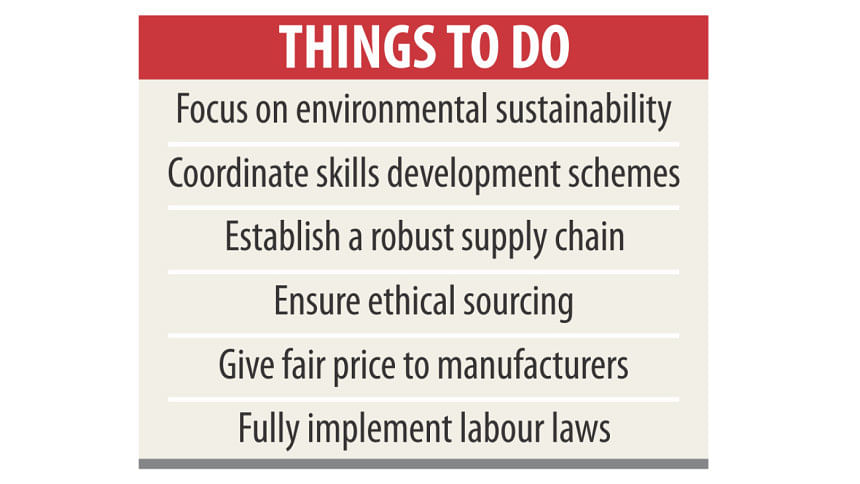 The International Labour Organisation yesterday urged Bangladesh to complete the remediation process in the garment sector as soon as possible to save the sector from any future catastrophe.
"Please, feel the urgency in the remediation issue and fix the safety issues so the brands and buyers are not in an embarrassing position and have to compromise their brand image," said Srinivas Reddy, country director of the UN agency.
It has to be remembered that the remediation is only part one -- a lot of factories are investing and fixing their safety issues on their own, he said at a roundtable at The Daily Star Centre in Dhaka.
"I am sure many of you sitting here are doing great work. But you cannot afford some small factory catching a fire or a building collapse. It will be a catastrophe for the sector."
Bangladesh Garment Manufacturers and Exporters Association and The Daily Star jointly organised the seminar on the garment exporters' target to reach $50 billion in exports by 2021.
Reddy said respect for labour rights, continuous social dialogue and investment in people are crucial for sustainability of the country's garment sector.
"Respect for labour rights is part of the growth trajectory for it to be socially inclusive and sustainable. Workers have to be made a partner in progress."  International standards should be followed in all issues, whether it is freedom of association or collective bargaining.
The ILO official requested factory owners to hear workers' viewpoints on a regular basis and have a culture of cooperation.
"I think this is fundamentally very important to move forward the sustainable progress. Promoting the fundamental principles and rights at work all over the world has proven that it is more sustainable, inclusive and it brings prosperity to the people at large and that brings prosperity to Bangladesh at large."
The garment makers and retailers should also focus on environmental sustainability in Bangladesh as the level of water in Dhaka has been depleting by 2.5 metres every year for higher consumption by the industries, said Mohan Seneviratne, a programme manager at International Finance Corporation.
"So, you (garment makers) cannot double the production capacity without environmental sustainability."
As of December 2015, 102 BGMEA member factories have adopted modern technologies under a programme called 'Partnership for Cleaner Textiles' focused on the wet dyeing and finishing sector, sponsored by the Dutch government, 10 brands, IFC, BGMEA and Solidaridad.
These factories have saved 14 billion litres of water in a year, Seneviratne said. For example, he said a factory in Bangladesh invested $28 million for environmental sustainability.
"This particular factory could earn extra work orders worth $7.7 million every year. That means the factory will get back their return on investment in only 3.2 years."
Seneviratne said IFC is helping set up a central effluent treatment plant at the Konabari industrial cluster in Gazipur to prevent water pollution and bring environmental sustainability.
In Bangladesh, 300 litres of water are required to produce a kilogramme of denim fabric, whereas the international standard is 60 litres, he added.
"We can't afford that kind of wastefulness in our water use. It has to be brought down to below 60 litres," said Ahsan H Mansur, executive director of Policy Research Institute.
Marcia Bernicat, US ambassador to Bangladesh, said she is shocked when people refer to remediation as a cost that is too expensive for the industry to bear.
"But this remediation is paying for itself in three and a half years," she said.
Jochen Weikert, a programme coordinator of GIZ Bangladesh, suggested improving physical infrastructure for smoother communication and transportation of goods.
"One of the key success factors for the garment industry in Bangladesh is capacity building. Only if we coordinate all programmes, the sector will grow in the value chain," said Daniel Seidl, country representative of Brussels-based Foreign Trade Association.
Nazma Akter, president of Sammilito Garments Sramik Federation, a workers' platform, urged the government and the factory owners to give living wages and dormitories, introduce safety committees in the factories and ensure freedom of association for sustainable garment business in the country.
"Workers' living conditions need to be improved by way of improving their access to health and accommodation by the government and the employers."
Anisur Rahman Sinha, chairman of Opex Group, said the retail prices for garment items declined 30 percent between 2000 and 2015.
The customers have enjoyed the benefit of such a price reduction and the sourcing countries have given such a benefit, he said. During this period, the production cost has gone up, but prices have gone down, he added.
Urging a clear idea of compliance, Sinha called for resetting the export target to one that is viable and sustainable for the sector.
"We need a robust supply chain of yarn and raw materials to achieve the export target," said A Matin Chowdhury, managing director of Malek Spinning Mills.
Abdus Salam Murshedy, president of Exporters Association of Bangladesh, urged the government to reduce the price of petroleum products, keeping pace with the international market. He also asked for priority gas connections for the factories that have been relocated from Dhaka to nearby areas.
"More than 200 green garment factories would be in operation in the country very soon," said Murshedy.
"We cannot achieve the target without a stable political situation," said Shyamal Dutt, editor of Bhorer Kagoj.
Presenting a paper, Sharif As-Saber, a Bangladeshi professor at RMIT University, an Australian public university, said there is currently no direct involvement of the governments of major retailing countries to make major retailers and brands follow ethically responsible sourcing practices and pay fair prices for their orders.
"Relevant international organisations, including NGOs, should also be directly involved in making the process transparent and accountable."
The ongoing remediation activities need to be completed with possible industrial upgradation to the satisfaction of the Accord and the Alliance and other stakeholders, he said.
Relocation of factories from the urban areas or shared buildings to suitable new sites is also an important consideration, he added.
To make the sector sustainable, he called for the use of cost-effective and energy-efficient green technologies, and efficient use of fresh water resources and effluent treatment plants.
On ethical pricing, the Australian academic said buyers should pay a fair price for the products they buy and they should also share the remediation cost.
Siddiqur Rahman, president of BGMEA, said some foreign organisations are providing low-cost loans to the Bangladeshi garment factories. "For example, Japanese International Cooperation Agency is giving the government a loan at 0.01 percent. But the central bank and others have imposed 10 percent interest rate on it. As a result, we are not getting low-cost funds."
Bangladesh's garment factories should have access to these loans without any additional charges, he said.
Sadeka Halim, a professor of sociology at Dhaka University, said the country's public policy is very weak, which created the scope for some employers to make a nexus that ultimately resulted in some accidents.
Mikail Shipar, labour secretary, said the effective implementation of the Labour Law can deal with the sustainability issue and ensure workers' rights.
He urged the factory owners to inform the government on how many skilled workers and how much industrial land they require.
KG Moazzem, additional research director at Centre for Policy Dialogue, said the compliance that is underway in Bangladesh should not be limited to the country only.
"Development partners need to take steps to ensure that this compliance is implemented in all the countries involved in the supply chain. Only then will Bangladesh's small and medium factories be able to survive in a competitive environment."
Zafar Alam, a member of Chittagong Port Authority, said Chittagong Port and upcoming ports in Payra and Sonadia would be ready to serve the export-import activities of the sector.