Plan big to diversify exports
Experts say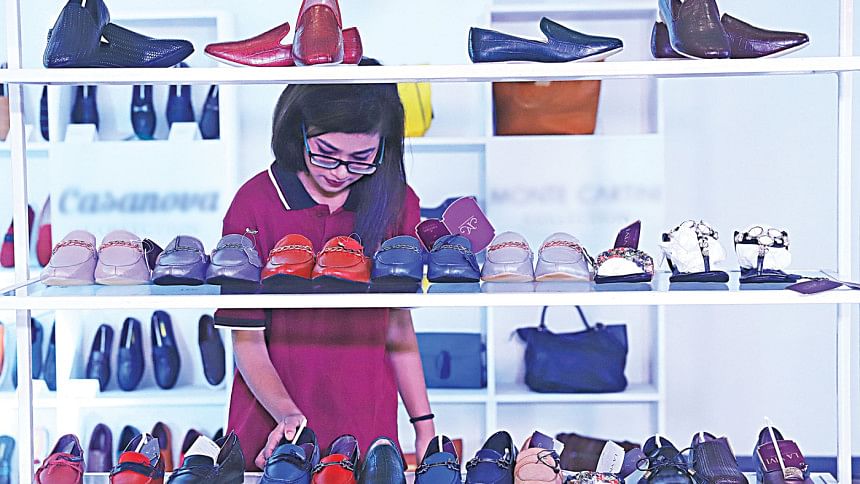 Bangladesh needs to formulate long-term plans on how to enhance its export basket after graduating from the UN's group of Least Developed Countries (LDCs), experts say at a webinar held yesterday.
Related measures could include providing low cost and easy access to finance, adequate policy support along with fiscal and non-fiscal incentives for non-garment export sectors while ensuring equal treatment and skills development, they said.
The webinar, styled "Challenges and way forward on export diversification of Bangladesh upon LDC graduation", was organised by the Dhaka Chamber of Commerce and Industry (DCCI).
Mustafizur Rahman, distinguished fellow of the Centre for Policy Dialogue (CPD), said the government should focus more on non-garment sectors with good export potential as diversifying the country's export basket would help address the existing and new challenges after graduation in 2026.
"The garment sector is a success model for us but now is the high time to focus on other potential non-garment sectors like agriculture, pharmaceuticals, light engineering, ICT, leather goods and jute," he added.
At present, 70 per cent of Bangladesh's exports get preferential access to certain markets but to continue enjoying such benefits after graduation, compliance will be a major issue.
"So, we have helped enforce domestic regulations that are WTO compliant as industry readiness is very important," Rahman said.
Besides, the Bangladesh Standards and Testing Institution needs to be strengthened to ensure that local products face international standard testing to secure accreditation. Rahman suggested the country's legal capacity should be increased as well since commercial disputes could increase significantly post-graduation.
DCCI President Rizwan Rahman said that Bangladesh will be deprived of many international support measures following its LDC graduation, such as various tariff and non-tariff related charges.
"To compete in the international export market after graduation, small and medium scale industries like jute, agro processing, leather goods, footwear, pharmaceuticals, light engineering, ICT and other emerging sectors will face all kinds of competition," he added.
AHM Ahsan, vice chairman and chief executive officer of the Export Promotion Bureau, was for focusing on geographical diversification and the services sector alongside traditional cash-cow industries.
"The government is taking the necessary steps for a smooth and sustainable LDC graduation. We need to facilitate more exports to Latin America, Africa, Asian and Middle Eastern countries other than EU and US," he said.Graduating from an LDC will give Bangladesh more negotiating power, according to Md Saiful Islam, president of the Leather goods and Footwear Manufacturers and Exporters Association of Bangladesh.
The authorities need to identify the benefits of signing free trade agreements (FTAs) or preferential trade agreements (PTAs) other than just considering the potential revenue gains, Islam added.
At present, Bangladesh earns as much as $1 billion from the jute sector but considering global climate change and increasing international commitment to sustainable development, the industry could fetch as much as $5 billion to $10 billion, said Mohammed Mahbubur Rahman Patwari, managing director of Sonali Aansh Industries.
"Jute is now used in various products and has become the second most sought after natural fibre in the world. So, we need to do value addition in this sector to be competitive after graduation," Patwari added.
FH Ansarey, managing director and chief executive officer of ACI Mobility, Plastic and Agribusinesses, said some 70 per cent of the total arable land in Bangladesh is used for rice production, which engages about 40 per cent of the country's labour force.
"We have to increase technology adaptation, enhance private sector research and innovation, follow good agricultural practices, develop the country's post-harvest capacity and brand," he added.
The local ICT sector earns about $1 billion dollars annually but due to a lack of payment mechanisms such as digital wallet or PayPal, not everything is reported in time, according to Syed Almas Kabir, president of the Bangladesh Association of Software & Information Services.
Md Abdur Razzaque, president of the Bangladesh Engineering Industry Owners Association said light engineering is a cross cutting sector, where investment is below the expected level.
"That's why we have to create a low cost fund for ensuring non-traditional access to finance to grow this sector," he added.
Naimul Huda, general manager of Incepta Pharmaceuticals said some 80 per cent of the drugs exported from Bangladesh are off-patent.
"So, after LDC graduation, we have to be compliant with global standards though the off-patent facility will be available up to 2033," he added.