Bangladesh becoming major importer of US nuts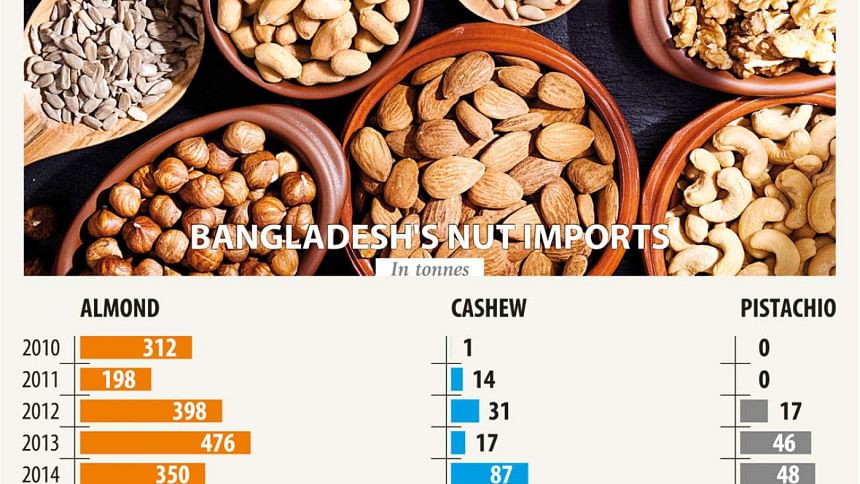 Bangladesh is progressively becoming an important market for the US's tree nuts, mainly almond, thanks to the country's rising income and expanding food and beverage industry, said a report by the US Department of Agriculture (USDA). 
"Consumers' attitude towards nut consumption is closely related to socio-economic condition," said the report, released in the second week of May.
As per capita income has risen, food habits changed from cereals to increased meat consumption and from home cooking to dining out.
"Along with this trend, consumption of snack foods, including nuts has increased."
Since 2010, total import of tree nuts -- almond, cashew and pistachios -- grew more than three times to 1,022 tonnes, according to the report.
Bangladesh is a net importer of nuts such as almonds, cashews, pistachios and walnuts. Save for peanuts, the other nuts consumed here are imported.
Cashews and almonds are imported the most, while the share of pistachios and walnuts is slowly growing.
Bangladesh imports almonds from the US, which is a major global supplier, directly and indirectly via re-exporting from Hong Kong.
Hong Kong is the ninth largest importer in the world for almonds and works. The trading hub re-exports the items to Bangladesh and other countries.
"As such, Hong Kong captures the largest export share of almonds to Bangladesh and Hong Kong imports mostly from the US."
Pistachios are imported mostly from Iran and India and cashews are sourced from Ivory Coast and Singapore, the report said.
Cashew imports are increasing at a faster rate than almonds.
Consumption of other nuts fluctuates as their use is very limited and prices are very high compared to almonds and cashews, the USDA said.
Decades ago, high value tree nuts were limited in supply in retail markets and consumers were not aware of the health benefits of them.
However, presently, due to improved consumer socio-economic status, rapid urbanisation, and increased knowledge and awareness of tree nuts, the demand has risen sharply, it said.
Food processors are also using almonds in a broader variety of product categories such as breakfast cereals, snack foods, health foods, beverages and confectionary items. 
Nuts are used mostly by hotels, restaurants, ice cream manufacturers, bakeries and individual households.
Consumption by the hotel, retail and institutional sectors outpaces that of households, according to the USDA.
The young generation and health-conscious individuals account for the largest number of consumers of nuts.