Leather goods exporters stare at tough times
India has announced a $404.7m special package for leather and footwear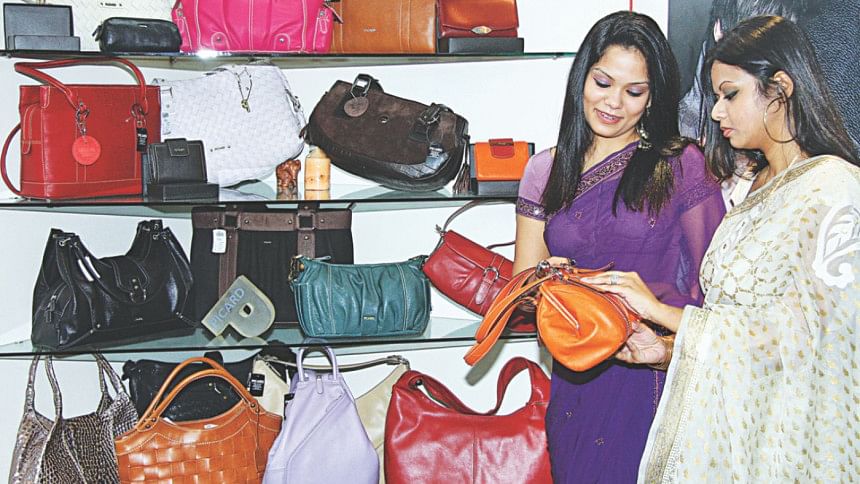 Bangladeshi footwear and leather goods exporters are bracing themselves for tough competition in the global market after the Indian government recently announced a mega financial incentive for the sector's revival.
Both the countries export footwear and leather goods to the same destinations like the EU, the US and Japan.
The Indian government has announced a special package worth $404.7 million (about Tk 3,338 crore) from fiscal 2017-18 through to fiscal 2019-20 for employment generation in the leather and footwear sector, according to Council for Leather Exports, India's leather trade rules and regulation body.
"We will face a very tough situation in the international market once the Indian government starts implementing the package," said Saiful Islam, president of the Leather Goods and Footwear Manufacturers and Exporters Association of Bangladesh.
The Japanese government's adoption of the "China plus one" strategy in 2008 had opened doors for Bangladesh's leather and leather goods exporters.
But, there is intense competition among exporting countries such as Vietnam, India and Ethiopia to grab an increasing share of the pie.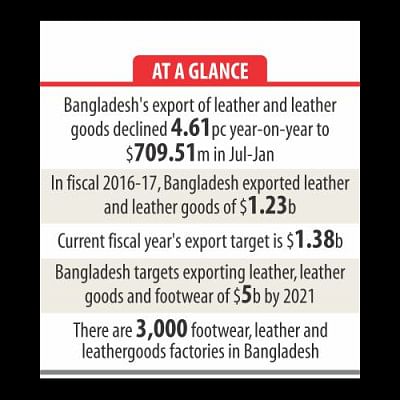 Besides, Bangladeshi footwear and leather goods export have been facing trouble over the last two years due to delays in relocating the tanneries from Hazaribagh to the newly-built leather estate in Savar and partial operation of the central effluent treatment plant at the estate, Islam said.
Export of leather and leather goods declined 4.61 percent to $709.51 million in the first seven months of the fiscal year -- 9.79 percent less than the periodic target, according to data from the Export Promotion Bureau.
The sector's export target for this fiscal year is $1.38 billion, up from fiscal 2016-17's receipts of $1.23 billion. Since all the tanneries are yet to become fully operational at the estate, there is a crisis of finished leather as well, Islam said.
As of now, 105 out of the 155 tanneries have started operations in the estate. And, the factories are not operating in full swing, according to the Savar Leather Estate.
The footwear and leather goods manufacturers and exporters have been struggling with compliance as well because of partial operation of the central effluent treatment plant at the estate, Islam said.
In the absence of full functionality, the nearby Dhaleswari river is being polluted by the tannery wastes, much to the dismay of international retailers.
"If we cannot compete with India, we might miss the export target of $5 billion by 2021."
More than 3,000 small- and medium-scale footwear, leather and leather goods factories would be in trouble for the Indian package, Islam added.