Wheat cultivation lowest in 3 decades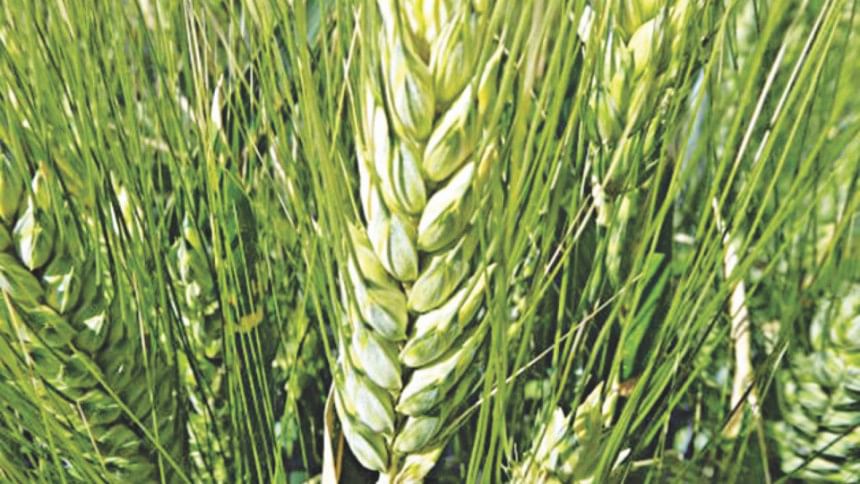 Wheat acreage shrank to its lowest in three decades this year as many farmers switched to rice to profit from its high prices.
This cultivation season, wheat acreage stood at 3.49 lakh hectares, down 79 percent year-on-year, according to data from the Department of Agricultural Extension on January 23.
Many farmers opted for boro rice cultivation as rainfall affected wheat plantation in the main sowing period in November, said Naresh C Deb Barma, director of newly established Bangladesh Wheat and Maize Research Institute.
"The high prices of rice also influenced their decisions."
Besides, wheat cultivation was discouraged in the southwestern districts -- Kushtia, Jhinaidaha, Jessore, Chuadanga and Meherpur -- to control blast infection, which hit wheat fields for the first time in 2015, Barma said.
Acreage has shrunk at a time when wheat imports are on the rise for increased domestic consumption as substitute of rice and for its increased use in the processed food industry.
Between July 1 last year and January 18 this year, imports of the grain, mostly by the private sector, rose 12 percent year-on-year to 37.32 lakh tonnes, according to data from the food ministry.
"We grew wheat on vast areas of land in our locality once. Now, you will find only a handful of growers cultivating the crop," said Wasim Royal, a resident at Damurhuda upazila under Chuadanga, a southwest district.
Farmers in his locality have allocated the lands to rice, maize and sugarcane cultivation.
Growers are more interested to cultivate rice this year than wheat because of the high price of the staple, Royal said, adding that the prices of paddy almost doubled from Tk 600-700 two months ago.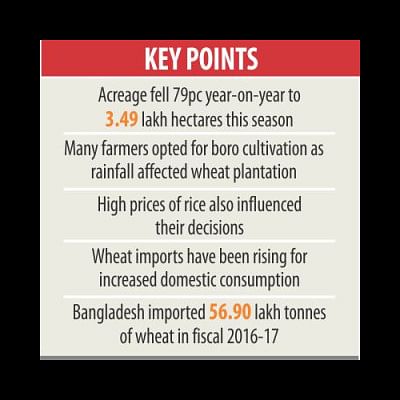 Yesterday, the retail prices of coarse rice in Dhaka was Tk 44-46 each kilogram, up 22 percent from a year ago, according to data from the Trading Corporation of Bangladesh.
The prices of wheat flour were Tk 28-35 each kg, up only 5 percent from a year ago.
Barma said wheat prices were not that much attractive to growers compared to rice prices. "Imports are high," he said.
The country imported 56.90 lakh tonnes of wheat in fiscal 2016-17, up 30.33 percent from a year earlier, according to data from the food ministry.
Imports is forecasted to rise to 65 lakh tonnes due to accelerated domestic consumption in the processed food industry this fiscal year, said the US Department of Agriculture last week.
Despite the slump in cultivation area, Barma expects that productivity of wheat would be high for favourable weather.
"Vegetative growth has been good so far. Besides, there is no disease infection. We are also carrying out campaigns so that farmers use fungicide to prevent the disease," he said.
Wheat production declined 3 percent year-on-year to 13.11 lakh tonnes in fiscal 2016-17 on account of lower acreage, according to the Bangladesh Bureau of Statistics.