Vegetable cultivation shows promise in Pabna
Farmers bemoan lack of marketing facility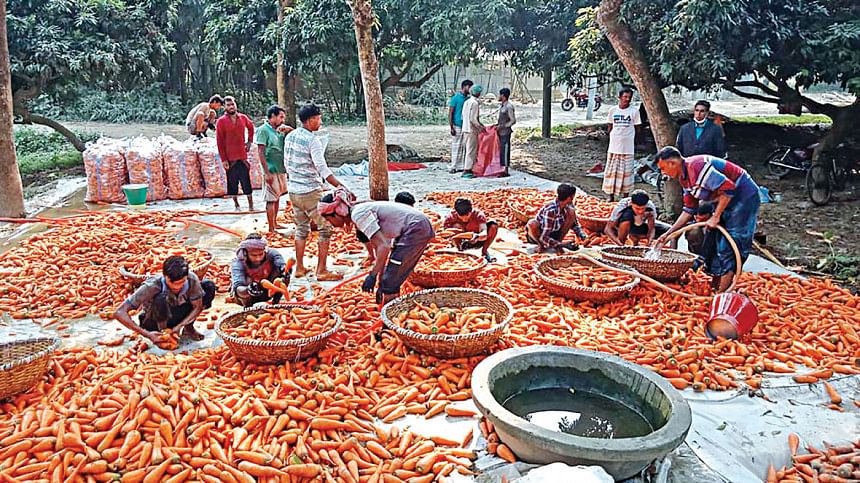 Vegetable cultivation is gaining popularity in Pabna as growing profits have spurred local farmers to expand their activities over the past few years, according to the Department of Agricultural Extension (DAE) in the district.
"We once cultivated only mustard and other winter crops but now, we are cultivating carrot and tomato as well," said Md Rojob Ali, a farmer of Varoimari village in Ishwardi upazila.
Ali is growing carrots on one bigha of land while mustard plants cover the rest of the area in his two-bigha plot.
"One bigha of carrot can easily earn Tk 25,000 while the mustard wil bring a profit of as much as Tk 15,000," he added.
Like Ali, most farmers in the region are cultivating more than one crop.
Md. Jasim Uddin, another farmer of the same village, said he cultivated a hybrid variety of carrot early in the season in a bid to get a handsome profit.
"I cultivated the early hybrid variety carrot on one bigha at a cost of Tk 50,000," Uddin said, adding that he planted tomato on one bigha of land as well.
He then said carrots worth TK 80,000 have already been sold and that it is very easy to earn such an amount from the crop, which provides better returns than other vegetables.
As per DAE data, a total of 22,250 hectares of land in the district will be brought under cultivation with a target to produce 5.67 lakh tonnes of vegetables this year.
Already, 20,184 hectares have been cultivated.
"Last year, 22,171 hectares were brought under vegetable cultivation to produce 5.68 lakh tonnes. This year, expect to get more vegetable cultivation," said Md Idris Ali, a development officer of the Pabna DAE.
Some 35 types of vegetables are grown in Pabna with eggplant, cauliflower, pumpkin, radish and carrot being the biggest cash crops.
While some vegetables are grown year-round, most of the crops in Pabna are sown in winter, Idris said, adding that farmers in the district supply their produce to markets all over the country to bring in thousands of crores worth of business each year.
Vegetables are being sold for at least Tk 40 per kilogramme (kg) at retail while the same amount is being bought for Tk 20 to TK 25 from farmers, DAE officials said.
But despite the handsome profits, vegetable growers believe they could get even better profits if there was a proper marketing facility, in lieu of which they mostly depend on middlemen.
"I sold each maund [37 kgs] of carrot for up to Tk 2,000 in November after the harvesting hybrid early variety, when each kg of carrot was sold for Tk 80-100 at retail," said Rajab ali, another local farmer.
Now, each maund of carrot is being sold for as much as Tk 900 from the field level and Tk 40 per kg in retail markets.
"Like this, all other kinds of vegetables are selling for double the price in retail outlets but the farmers are deprived of the expected price," he added.
Shajahan Ali Badsha, a local pioneer in vegetable cultivation, said farmers are often deprived of their expected prices due to the lack of a marketing facility and excessive transport costs.
"Vegetable farmers do not directly supply the retail markets. Besides, transport costs have doubled in the past year while middlemen continue to take most of the profit," said Sajahan Ali Badsha, an Agricultural Important Person (AIP) of the country.
If the farmers had access to a marketing facility to sell their crops directly, they would get the expected profit, he added.