Used car imports surge in FY22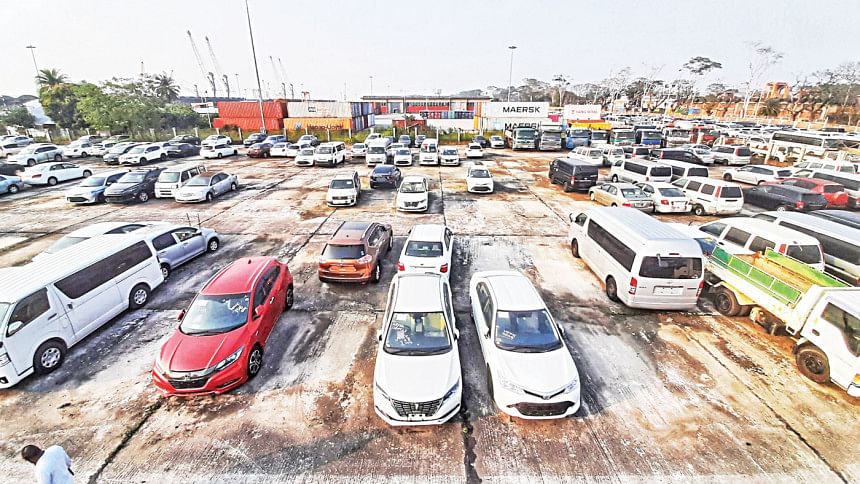 Car imports surged in the just concluded fiscal year thanks to reduced import tariff and release of pent-up demand among the country's middle-class amid the economy's gradual recovery from Covid-19.
Car dealers imported 20,009 vehicles, mostly used passenger cars and micro-buses, through Mongla Port in fiscal 2021-22, which is the highest since the seaport in the southwest coastal region started handling imported used vehicles, according to the Mongla Port Authority (MPA).
Meanwhile, used car sellers imported more than 14,400 vehicles in the preceding fiscal year, as per data from the MPA and Bangladesh Reconditioned Vehicles Importers and Dealers Association (Barvida), a national body of used vehicle importers and dealers.
The depreciation of taka has increased car import costs at a time when importers had to pay more to bring in used vehicles, mainly from Japan
"We had a good year as the market expanded because of a cut in import duty in the last fiscal," said Abdul Haque, managing director of Haq's Bay Automobiles Ltd, a leading used car importer and retailer.
"We saw increased demand for hybrid cars and microbuses," he added.
In fiscal 2021-22, the government slashed import tariffs on hybrid cars and microbuses depending on the engine capacity, enabling the sector to import an increased number of used vehicles.
Many people who kept their car purchase plans pending bought the vehicles after the reopening of economic activities, said Aslam Serniabath, owner of Car Selection, which sells 900 cars annually, and vice president of Barvida.
However, auto sellers said the market began to slow down after Bangladesh Bank tightened the rules regarding opening letters of credit for vehicle imports in May, when the central bank aimed to discourage imports as the crisis for US dollars worsened owing to skyrocketing import costs.
The central bank had initially slapped car importers with a rule that they would have to pay 75 per cent of the import cost to bring in vehicles.
Yesterday though, it revised this measure to encompass 100 per cent of the import cost.
Bangladesh's taka lost 8.9 per cent in value against the US greenback since January this year even though Bangladesh Bank injected more than $7 billion into the market to stabilise the exchange rate.
The depreciation of taka has increased car import costs at a time when importers had to pay more to bring in used vehicles, mainly from Japan, as manufacturers cut automobile production amid a semiconductor shortage following the global coronavirus outbreak.
Import costs and the price of passenger cars are going to increase further in the ongoing fiscal year as the National Board of Revenue hiked the supplementary duty for vehicles with engine capacities of above 2,000 cubic centimetres (cc).
Md Habib Ullah Dawn, president of Barvida, said 19,000 units of used cars were imported in fiscal year 2021-22.
He said the market had been doing well but the problem began after Russia invaded Ukraine, when the dollar crisis and shortage of passenger cars altogether affected the car market.
"The overall market has become slow after the new duty measure. The market is not going to be good in the new fiscal year as car prices will go beyond the purchasing capacity of many," Dawn added.
He also said the price of cars with engine capacities of up to 2,000cc would rise by about Tk 200,000 for each vehicle due to the increased duty, depreciation of taka and higher prices in source countries.
Similarly, the price of cars with engine capacities ranging from 2,000cc to 4,000cc are likely to increase by Tk 40,0000 to Tk 80 lakh, he added.
Dawn then said the government should not have increased supplementary duty on hybrid cars as those are relatively environment friendly.