Unemployed youths more interested in govt jobs: experts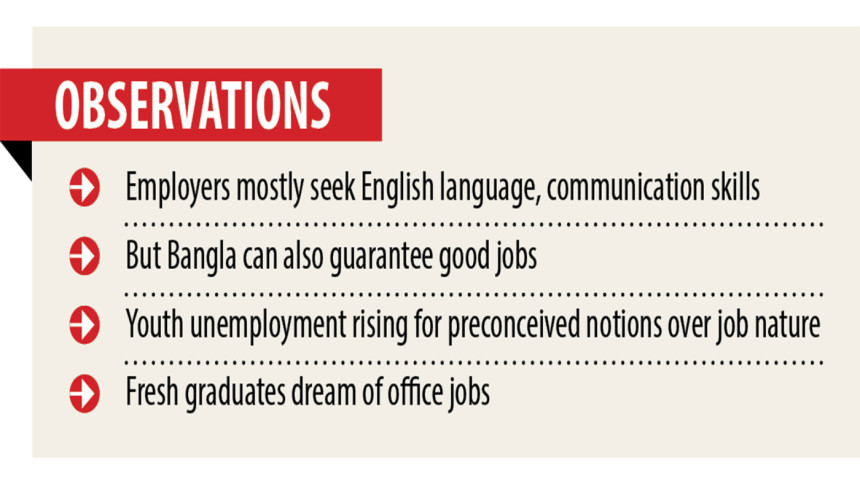 Unemployed youths are now more interested in getting government jobs rather than private sector ones because of higher salaries and job security, speakers said yesterday.
Even a decade ago, unemployed graduates preferred jobs in multinationals or banks but now they study to pass in the Bangladesh Civil Service exam to get into public service, they said.
"This is because the salaries have doubled in public service but the payment in private sector jobs has remained the same," said Fahim Mashroor, CEO and co-founder of Bdjobs.com, at a discussion on skills gap and youth employment in Bangladesh.
The Centre for Policy Dialogue (CPD) in collaboration with Friedrich-Ebert-Stiftung (FES) organised the event at Brac Centre Inn in Dhaka. CPD Executive Director Fahmida Khatun moderated the discussion.
Syed Yusuf Saadat, senior research associate of the CPD, in a keynote, said 38 out of 100 surveyed employers informed that they could not offer jobs to unemployed youths because of their lack of skills.
The employers mostly sought English language and communication skills, he said.
On the other hand, the jobseekers said they could not develop the required skills as opportunities were not available after their graduation.
Mashroor, who regularly assesses thousands of job applications for different sectors, said sometimes many skilled job applicants were not taken into consideration because they lacked English language skills, which was not right.
However, youth unemployment has been rising because of preconceived notions over the nature of jobs.
The present generation does not want private sector jobs because they think government jobs are more secured and pay higher salaries.
Just 10 years ago, 90 per cent of applicants were expecting a job in a multinational company but now, 90 per cent of applicants want jobs in public service because of job security and higher salaries, he added.
Syed Nasim Manzur, managing director of Apex Footwear, echoed the same.
Fresh university graduates dream of getting jobs in offices with facilities such as air conditioning but they do not want to work at mid-level positions at the factory level even if the pay is higher, he said.
Manzur said Apex had borne the expenses to enable 50 students to graduate from a university and later offered them jobs as store managers.
Half turned the offer down, as either they or their families had reservations about working in a factory that manufactured shoes.
"It is a social stigma," he said.
Most graduates prefer public sector jobs because of the social perception that government jobs grant a better social status.
At the discussion, a debate arose on whether English was a skill necessary for jobs.
Manzur said it was communication skills which were rather important.
He said his firm would not demand English language skills as a job requirement from applicants.
The disclosure was welcomed with thumping on tables by some jobseekers who alleged that they were facing troubles in finding jobs as English language skills were a requirement for private sector jobs.
However, productivity and communication skills are more necessary as the country is making the status graduation to a developing nation from a least developed one, he added.
Nihad Kabir, president of the Metropolitan Chamber of Commerce and Industry, said there was no relation between the English language and skills.
Many can get a very good job even with good Bangla language skills, she said, adding that sometimes many skilled youths were unable to get employment for a huge number of job applicants.
Citing an instance when she had to conduct an interview to select 600 employees for a private bank but over 40,000 had applied, Kabir said that this prevented all those skilled from being employed.
She said it would not be wise to stick to subject specific requirements for many jobs because technologies have changed everything by a very big margin.
She questioned why only BBA and MBA degrees were sought for bank jobs when many top executives were running banks and garnering reputations despite having come from other academic disciplines.
Planning Minister MA Mannan said the government has no plan to shut any university on grounds of their education quality not being up to the mark as these universities were needed to educate students.
At one stage, the focus on quantity will fall and quality will be generated from those educational institutions, he said.
Shirin Akhter, member, Parliamentary Standing Committee on Ministry of Primary and Mass Education, said the primary and higher secondary levels should get focus as the base of education.
Prof Md Shazzad Hosain, director of NSU Startups Next, Associate Prof Salma Begum of BRAC University's economics and social sciences department, Associate Prof Kazi Mahmudur Rahman, coordinator of master's in development studies at Independent University Bangladesh, and Shadhan Kumar Das, programme co-ordinator of FES, Bangladesh, also spoke.