Tyre imports fall on BB curbs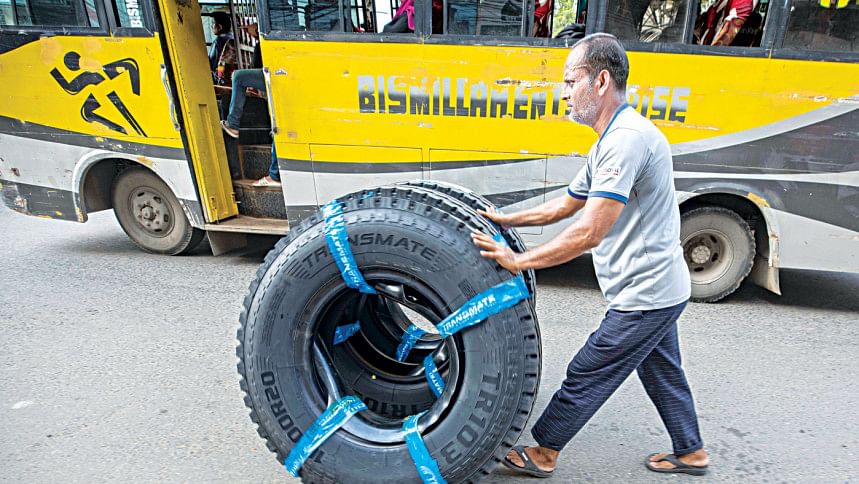 Tyre importers in Bangladesh have been hit hard by the rise in the exchange rate and the doubling of the cash businesses require to pay in advance to open letters of credit to bring in the item.
In the face of falling foreign exchange reserves, the Bangladesh Bank, on May 10, instructed banks to charge 50 per cent of import payments in advance to open LCs for luxury items such as tyres and tubes.
It came after the LC margin was increased to 25 per cent for tyre and tube imports from 10 per cent on April 11.
The central bank was forced to raise the LC margin to discourage the imports of luxury and non-essential items as the reserves have fallen to around $42 billion owing to the escalation in imports against moderate exports and remittances.
Now importers say tyre imports and the trading of foreign tyres have declined since the BB issued the circular.
A number of importers in the Kadamtali and Dewanhat areas, the wholesale markets for tyre and tubes in Chattogram, say the increase in the LC margins would have a negative impact on the country's transport sector since Bangladesh relies on the imports, mainly from India and China, for the tyres used in trucks, lorries, buses and other large vehicles.
Rashid Ahmed, managing director of United Enterprise, an importer, said truck and lorry tyres were sold at Tk 28,000 per piece in March.
"Since the LC margin has gone up, we have to invest around Tk 2,000 more for each set of tyre. This is increasing our costs."
He says the cost of importing tyres has gone up because of the taka's devaluation against the US dollar.
At present, banks are charging importers as high as Tk 97 per USD to settle import bills. It was below Tk 90 a month ago.
"The tyre market has become volatile," said Ahmed.
Liaqat Ali Chowdhury, president of the Chattogram Tyre Tube Importers and Dealers Group, says importers are running out of cash due to the higher LC margin.
"The sector is fully import-dependent. It is not a luxury product -- it is an essential product."
Currently, more than 11 lakh trucks, lorries and buses are operational in Bangladesh and they consume 50,000 sets of tyres per month, according to Chowdhury.
"Importers have reduced tyre imports as the LC margins and the cost of imports have gone up. There has already been a negative impact on the tyre market and it will be felt in the transport sector soon as well."
The importer-dealers group has recently sought the intervention of the finance ministry, the commerce ministry, and the central bank to resolve the crisis facing the sector.