Trouble brewing for RMG exporters as orders fall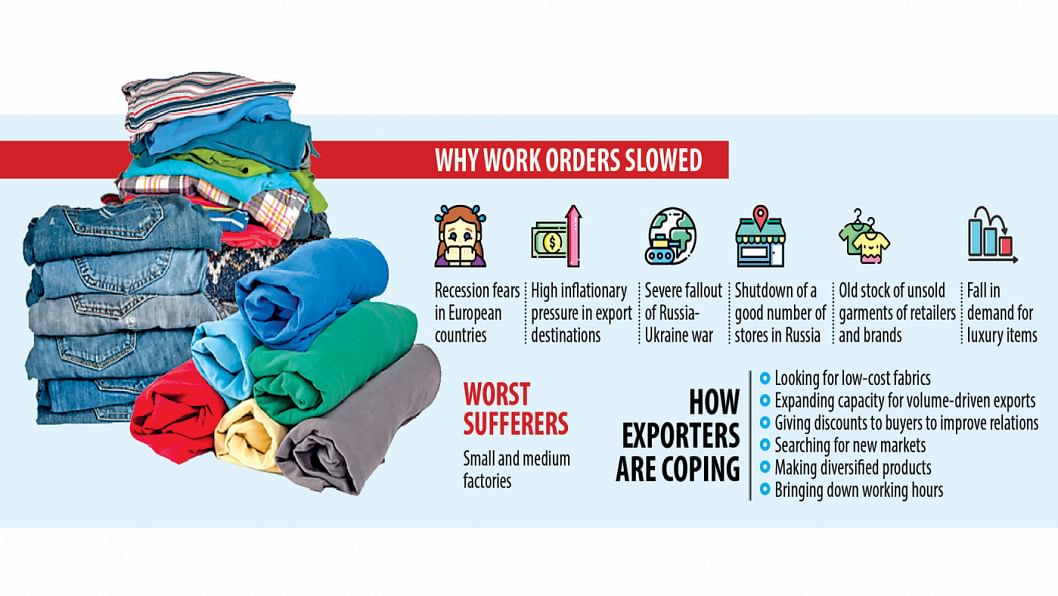 Apparel exporters in Bangladesh are feeling the pinch of a looming global recession, persisting higher inflation and dragging severe fallout of the Russia-Ukraine war as orders from international buyers have fallen. 
The decline in the booking of orders came after inventory piled up for retailers and brands forcing them to cut or cancel orders or put them on hold amid belt-tightening by western consumers, particularly in Europe.
The fall in demand could deal a major blow to Bangladesh's biggest foreign currency earning sector, which accounted for about 85 per cent of export receipts of more than $52 billion in the last fiscal year. 
One of the top exporters in Bangladesh, Envoy Textiles usually sits on orders for more than three months.
"We are booked for less than one month now," said Kutubuddin Ahmed, chairman of the garment exporter.
Ahmed's buyers, mainly European, are reasoning that they are worried about the piling up of unsold goods since the demand for garment items has dropped because of higher inflation and a threat of a recession stemming from the war.
Inflation in the eurozone reached a record high of 8.9 per cent in July, led by costlier energy as the fallout from the war continues to hammer the economies in the trade bloc.
International retailers and brands are facing fresh troubles at a time when they are yet to recover fully from the impacts of Covid-19.
The fresh uncertainty has prompted Ahmed to instruct his research and development department to produce low-cost fabrics so that Envoy Textiles can survive the imminent hard times as consumers will not buy high-end garment items amid an increased cost of living.
Ha-Meem Group, another garment exporter, is planning to expand its manufacturing capacity by 10 per cent to achieve its shipment target of $700 million in 2022.
"But it might be impossible as my buyers are placing lower orders than they promised earlier mainly because of the war," said AK Azad, chairman of the group.
MA Jabbar, managing director of DBL Group, another garment exporter, says he has diversified the markets to maintain good business growth.
For instance, DBL Group used to export only 2 per cent of its garment items to the US and 98 per cent to the European markets. Now, it has started selling garment items in the US in large volumes, with more than 10 per cent of the company's total exports already destined for the world's largest economy.
"This is because the inflow of work orders from the European buyers is low whereas the stream of orders from American buyers is higher owing to the trade tension between America and China," Jabbar said.
DBL Group has set an apparel export target of $500 million for the current fiscal year, which began on July 1.
Mahin Group, one of the top fabric makers and exporters in Bangladesh, has not been hit with lower orders yet. But its managing director Abdullah Al Mahmud Mahin says that the outlook for the near future is not bright as buyers are sounding alarms about recession and higher inflationary pressure.
The entrepreneur, however, has been hit hard by the US dollar crisis that has affected the construction of a new factory.
The dollar is trading at more than Tk 110, up at least 25 per cent from a year ago, driven by a fall in foreign currency reserves caused by higher import bills.
Stocks of unsold goods are also piling up for Mahin as some of his buyers are making delays in taking the deliveries of some Russia-bound goods since many European retailers and brands have shut their outlets in the country after the war began.
"However, my buyers have confirmed that they will take the goods for other markets," the entrepreneur said.
Nusrat Bari Asha, managing director of apparel exporter Benetex, alleges that some buyers are taking the advantage of difficult times and offering lower prices.
She thinks that the current slowdown in work orders may be temporary.
Md Shahidullah Azim, acting president of the Bangladesh Garment Manufacturers and Exporters Association, says the sector has been receiving 30 per cent fewer orders for the last two seasons compared to the same period a year ago.
"The trend is continuing," he said, citing that American retailer Walmart, for example, has cancelled orders.
This week, Walmart, Target, Kohl's, all major buyers of garment items from Bangladesh, announced plans of canceling orders to deal with the inventory glut amid decreasing global demand for apparel.
Other big buyers such as Gap, Costco and H&M are also cutting down on orders, industry insiders told The Daily Star.
"The dragging war in Ukraine, the global inflationary trend, the supply chain crisis, and the overstocks of goods will lead other global retail chains to withhold orders as well," said Asif Ibrahim, vice-chairman of Newage Group.
Last week, Walmart Chief Financial Officer John Rainey said that the company has "cancelled billions in orders" to deal with inventory pileups that have amassed over the last few quarters, according to media reports.
Target said it had reduced its "inventory exposure in discretionary categories" throughout the second quarter by cancelling more than $1.5 billion of orders in these categories and marking down products.
"We have taken action to address inventory, including increasing promotions, being aggressive on clearing excess inventory and pulling back on receipts," said Kohl's CFO Jill Timm recently.