Transport strike affects export, import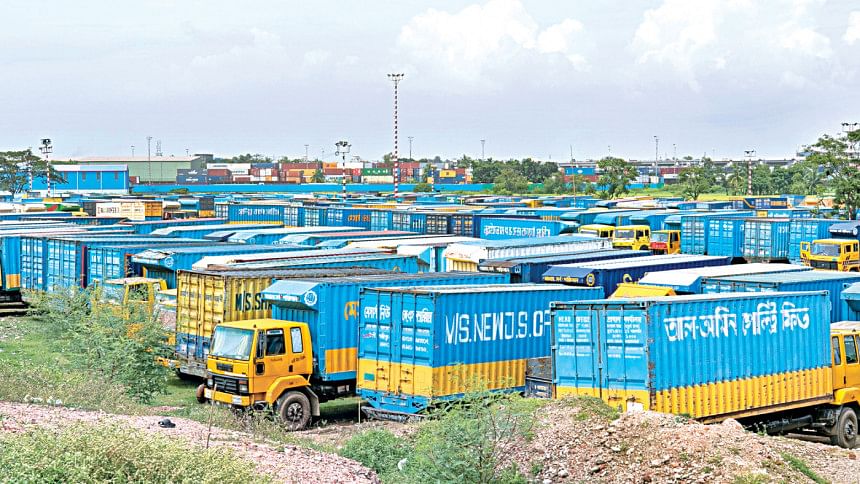 The transport operators' countrywide strike yesterday affected export and import of goods at a time when businesses have been attempting to make a recovery from the fallouts of the Covid-19 pandemic.
Any disruption to business, including in transportation of goods, in the time of revival will only prolong the recovery.
Almost a five-kilometre long tailback of exports-laden trucks was seen at the Benapole port.
Many exporters faced difficulties to carry goods from their factories to the Chattogram port and vice-versa.
Moreover, all types of activities at the Chattogram port almost came to a halt as a faction of owners and workers of goods transporting vehicles enforced the countrywide 72-hour work abstention since yesterday morning over a 15-point demand.
Goods and container transport to and from the port as well as loading and unloading of goods and containers at the vessels berthed at the jetties remained suspended yesterday as no goods-carrying vehicles like trucks, covered vans and prime-movers operated.
Activities at the 18 private inland container depots (ICDs) also were badly disrupted due to the work abstention of vehicle workers.
Bangladesh Covered-Van, Truck, Prime Mover Goods Transportation Owners Association and Bangladesh Truck Drivers Workers Federation jointly enforced the countrywide work abstention.
Some of the major demands are cancellation of the decision of hiking advance income tax imposed on the vehicle owners and removal of complications in issuing driving licences for heavy vehicles, they said.
Stoppage of harassment by police through stopping vehicles at any place in the name of checking documents and setting up of adequate terminals and restrooms for the goods-carrying vehicles on both sides of the highways are some of other demands.
Talking to The Daily Star, Secretary General of the owners' association Chowdhury Jafar Ahmad said the government in 2019 raised the annual advance income tax without any discussion with stakeholders.
It was from a previous rate of Tk 12,500 to Tk 16,000 against a truck or covered van and from Tk 19,000 to Tk 24,000 for a prime-mover, he said.
"We refused to pay the additional amount in the last two years but this year the owners are being asked to pay the full tax, including the previous years' arrears," he said.
Usually, 4,000 to 6,000 trucks and covered vans as well as 2,500 container-carrying prime movers enter the port a day for taking delivery of goods and containers.
No vehicle entered into the port since 6:00am yesterday, said CPA Secretary Md Omar Faruk adding that delivery of bulk cargo and goods-laden containers almost remained suspended.
He, however, claimed that loading and unloading of containers from the vessels were ongoing on a limited scale.
But the berth operators said loading and unloading activities also came to a halt as prime-movers engaged in carrying the unloaded containers from the hook point to different yards did not operate.
Saif Powertech handles container movement at seven jetties under Chittagong Container Terminal (CCT) and New Mooring Container terminal (NCT).
Tanveer Hussain, chief operating officer (COO) of Saif Powertech, said three container vessels, MV Conship Cox, MV Sahare and MV Peral River Bridge, berthed at three jetties of NCT yesterday morning.
But not a single import-laden container could be unloaded from these vessels yesterday, he said.
On an average day, 1,000 TEUs (twenty foot equivalent units) of import containers are usually unloaded from a vessel.
Transport of import and export containers between the port and 18 private ICDs was also suspended.
Bangladesh Inland Container Depots Association (BICDA) Secretary Md Ruhul Amin Sikder said no import and export-laden containers could be transported between the port and ICDs yesterday as the drivers and helpers of prime movers abstained from work.
Usually, 1,500 TEUs of export-laden containers and 700 TEUs of import-laden and empty containers are transported between the port and the ICDs.
Scheduled departure of a Colombo-bound vessel named MV AS Sicilia berthed at CCT jetty No 3 may have to be cancelled as around 929 TEUs of export-laden containers bound for this ship could not be transported to the port from the ICDs yesterday.
Mohammad Hatem, first vice-president of Bangladesh Knitwear Manufacturers and Exporters Association (BKMEA), said exporters who have their own transport facility were able to carry goods from factories to the ports and vice-versa.
Home Minister Asaduzzaman Khan in a meeting on Monday night gave assurances of an amicable solution through discussions.
However, only 20 per cent of factories have their own transportation facilities to carry goods. So, $80 million worth of garment export was affected due to the strike in a day.
Mokbul Ahmed, president of Bangladesh Covered-Van, Truck, Prime Mover Goods Transportation Owners Association, said apart from the higher licence renewal fee, collection of tolls at different points in and outside of Dhaka was a major challenge for the drivers.