Tangail sari sales get Durga Puja boost
Local sale of saris, especially those made on handlooms by skilled artisans in Tangail renowned for their colours and designs, has apparently gone up marking the upcoming Durga Puja.
The customers include Indian traders who are opening letters of credit to meet the festival's demand, especially in West Bengal.
The garment is available on a wide range of prices, from as low as Tk 400 to as high as Tk 20,000, catering to people from every social stratum and background.
From producers to sellers, everyone throughout the local weaving industry is passing busy times trying to make a comeback from the pandemic-induced slump in sales, when many artisans became unemployed while others took up other professions.
Weaver Subrata Rajbanshi of Pathrail area said he resumed running 35 of his 50 handlooms in the last couple of months.
Demand is good in Karatia market, the largest hub for Tangail saris, alongside from wholesalers from around the country, confirmed trader Abdul Motaleb.
"After a long period, buying and selling is getting better," he added.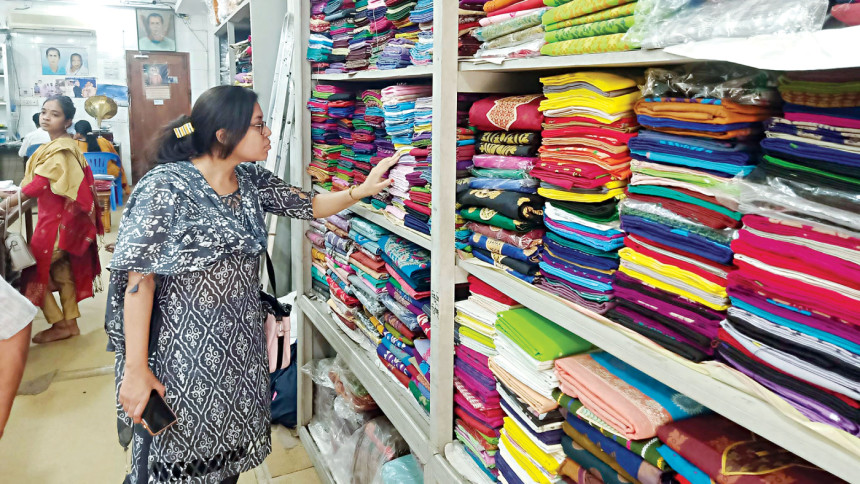 This correspondent met Abdur Razak, a wholesaler from Rangpur, during a visit to the market last Tuesday.
He explained that the supply of different kinds and qualities of saris there was huge while prices reasonable, for which those were high in demand in his area, especially during festivals.
Saris worth over Tk 100 crore have already been exported to India marking Durga Puja, said Sohrab Hossain, owner of Tant Palli in Pathrail in Delduar.
Sources said saris were illegally taken to the neighbouring country too.
Over 10 lakh saris of Tangail have already been exported to India marking the festival but it is 20 per cent less than the average prior to the pandemic, said Raghunath Basak, president of the Tangail Sari Traders Association.
There are around 20,000 handlooms of around 4,500 weaver families alongside around 25,000 power looms in the district, said Rabiul Islam, liaison officer of Bangladesh Handloom Board's office in Bajitpur upazila.
He said over 1 lakh artisans were engaged in the profession, half of whom were locals while the rest migrants from Sirajganj, Pabna, Kurigram and other districts.
Locals said the figures were a fraction of what was a couple of decades ago, a result of rising raw materials prices.