Solop buttermilk, a brand in and of itself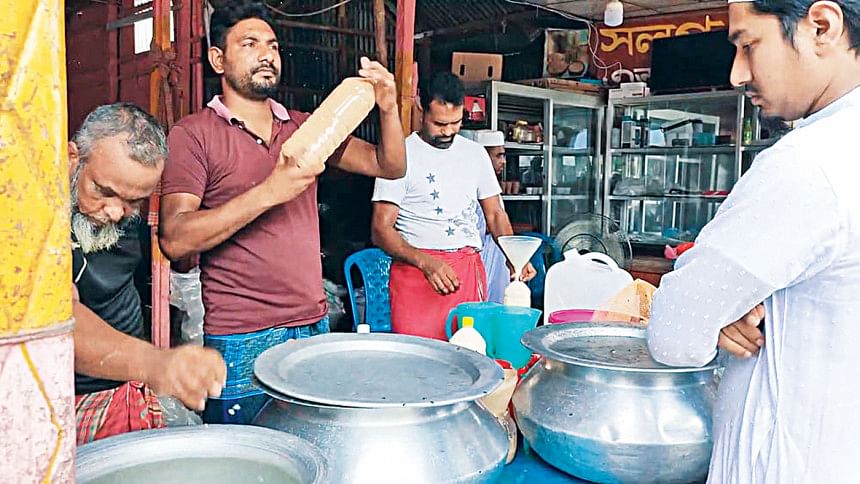 People across Bangladesh have long been enjoying two traditional buttermilk products called "ghol" and "matha" thanks to their unique taste and texture and so, makers of these treats in Solop village under Ullapara upazila of Sirajganj never compromise on quality, helping them keep the inherited business alive for more than 100 years.
As such, "Soloper Ghol" has become a brand in-and-of-itself, turning the typical village into a renowned location for traditional deserts.
During a recent visit to Solop rail station, it was seen that dozens of shops in the area are selling the two buttermilk products.
To produce ghol, workers use heat the milk and use salt to separate the cream and whey before mixing in water and soda. To make matha, water and soda are left out of the process.
People of Solop village have known this method of producing ghol and matha since 1922, when local resident Md Sadek Ali introduced the drinks in the rail station area, which has now become synonymous with buttermilk.
Ali had gone to Rajshahi in search of work early in his life and it was there that he learned how to produce buttermilk, according to his grandson Md Abdul Malek.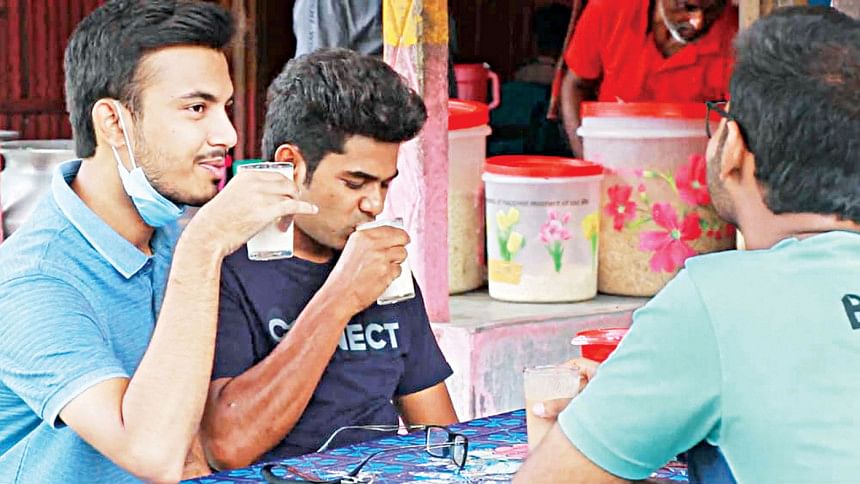 "My grandfather then opened a small business in the rail station area with the help of family and later expanded to a shop beside the rail station itself," he said.
The business continued expanding rapidly after that with people from all over the upazila coming to taste his buttermilk products.
After that, many people started working as buttermilk makers for Ali but eventually went on to start their own businesses and now, there are more than 20 buttermilk shops in the rail station area.
"But our business has been going stronger for 100 years as we never compromise on quality," Malek said.
Aside from locals, people from all over Bangladesh come to Solop rail station for a taste of buttermilk products and other desert items, turning the once quiet rural area into a bustling business hub.
Malek, who received a national award for his business, went on to say that he produces more than 20 maunds (one maund=37 kilogrammes) of buttermilk each day during the peak season centring Ramadan.
Buttermilk makers in the village collectively produce around 200 maunds of the product during the off-season but production reaches more than 500 to 800 maunds during Ramadan, earning them a total of Tk 15-20 crore annually.
The traditional buttermilk business has changed the socio-economic activities in the village with several hundred people being involved.
"There are many people who supply milk and wood while others are working in buttermilk factories. Besides, people from across the country visit to take a taste of these deserts so many other businesses have popped up as well," Malek said.
Md Rajib Hossain, a resident of Shantahar municipality under Adamdighi upazila in Bogura, came to visit Solop village to fulfil his dream of enjoying the authentic traditional buttermilk.
"I came to know about the heritage of Solop earlier. Now, I have come for my job purpose but could not leave without a taste of Solop buttermilk," Hossain said, adding that he is taking some back home for his relatives.
Md Saddam Hossain, a buttermilk trader of Solop market, told The Daily Star that the demand for their product is increasing across the country as they never fail to assure quality.
"We don't extract the entire cream from milk as 50 per cent is left in our products to ensure that they taste different. We are keeping our inherited business but we need government support to expand our traditional food item across the country," he said.
Engineer Shawkat Hossain, chairman of Solop union, said if the government takes the initiative, local buttermilk products could become an officially branded product of the region.
"We organise a buttermilk festival every year for branding the traditional desert item across the country," he added.