SME suppliers' platform set up for women entrepreneurs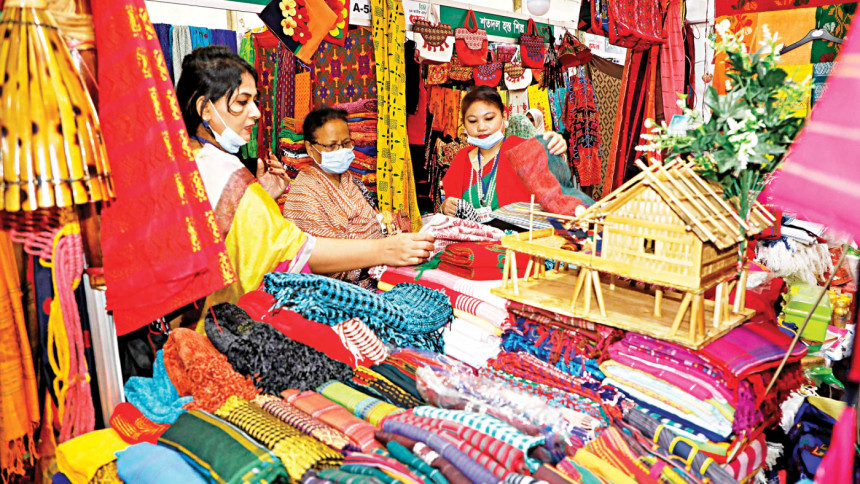 The SMEF Suppliers Platform for Women Entrepreneurs has been created in collaboration with the World Bank and SME Foundation to support the sale of products produced by women entrepreneurs to corporate houses in Bangladesh.
An official of the SME Foundation said the platform will help women entrepreneurs find a market for their products, especially to ensure that they sell their products to corporate houses.
In addition, financial institutions will be able to present their loan information for women entrepreneurs on this platform to be managed by the SME Foundation.
The SME Foundation thinks that women entrepreneurs, corporate houses and financial institutions using can all benefit from using this platform.
Mafizur Rahman, managing director of the SME Foundation, said there is a chance for entrepreneurs who are not associated with major buyers to be brought into the mainstream supply chain through the platform.
With the help of its local concerns, the World Bank will monitor the platform's efficiency all over Bangladesh, he added.
Rahman went on to say that the number of local female entrepreneurs is increasing at a significant rate every year due to the creation of a supportive work environment and various incentives. However, the participation of women entrepreneurs in corporate supply chains is very low, and that is why the platform was created.
Women entrepreneurs who are not able to connect with corporate houses due to various reasons, including inability to produce quality products, lack of necessary resources, inability to connect with a suitable market, and lack of information about the needs of corporate houses can benefit from the platform.
Due to the lack of necessary platforms, lack of ability to work with women entrepreneurs, lack of information about products, corporate houses are not interested in buying products of women entrepreneurs, he added.
The SME Foundation said one-third of the small-and-medium enterprises (SMEs) worldwide are owned by women.
Meanwhile, research conducted through the SME Foundation shows that market connectivity or marketing of products is one of the major barriers for women entrepreneurs. This problem is even more acute in the first phase of a business's launch.
The study found that while 37 per cent of women entrepreneurs in business reported a capital crisis, 20 per cent of them identified product marketing as their main problem.
There are about 10 lakh small-and-medium scale industries and 68 lakh cottage industries in the country, of which 7.21 per cent are being run by women.
A study conducted on 80 multinational corporations conducted by Fortune-500 found that out of an average of $1 trillion in annual purchases and sales, only 1 per cent are with companies owned by women entrepreneurs.
Meanwhile, the platform is scheduled to be officially launched at an event today, where Industries Minister Nurul Majid Mahmud Humayun is expected to act as chief guest.
Mercy Miyang Tembon, country director for Bangladesh and Bhutan of the World Bank, will act as special guest.
Meanwhile, with the efforts of the SME Foundation to procure at least 25 per cent of the country's public procurement from the SME sector, the Ministry of Industries has already finalised the draft sub-contracting law.
The comprehensiveness of the commodity market for the SME sector is expected to increase significantly if the act comes into force.
The SME Foundation has advised SME entrepreneurs, especially those who are women, to make necessary preparations to take advantage of this opportunity.
Cottage, micro, small-and-medium enterprises, account for nearly a fourth of Bangladesh's gross domestic product.