Shrimp processors closing down
A lack of raw materials, inadequate govt support to blame
Bangladesh's  frozen shrimp processing industry is struggling to survive as factories  are closing down one after another due to a lack of raw materials,  competition with cheaper white-leg shrimp vannamei in the export markets  and inadequate government support, according to the Bangladesh Frozen  Foods Exporters Association (BFFEA).
Now 47 of 105 factories  remain operational but more than half of them are struggling to survive,  mainly because of shortage of shrimps, which can compete with vannamei  in the foreign markets.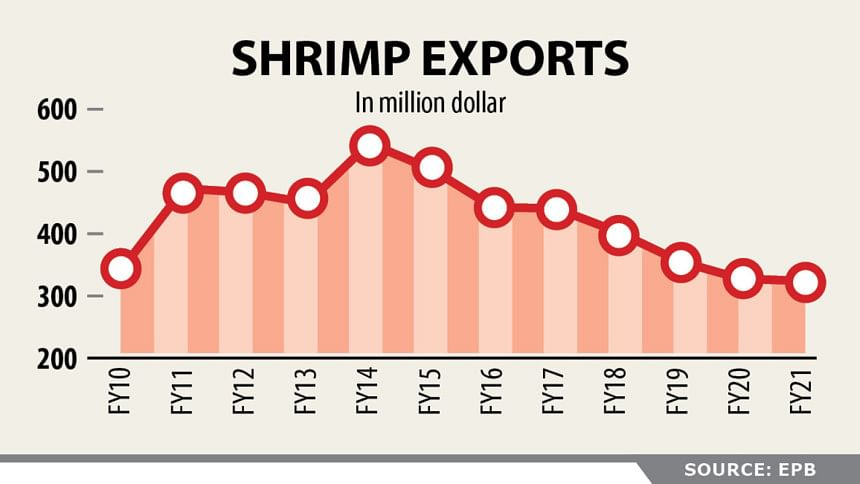 As a result, the livelihoods of roughly  six million people who are directly or indirectly dependent on the  shrimp industry, are now in jeopardy.
Industry operators said most  of the fish and shrimp processing factories were established in the  last three decades encouraged by export prospects to the EU and US  markets.
And most of the fish and shrimp processing factories  were established in Khulna, the southwest coastal division which  produces the bulk of black tiger bagda and freshwater prawns.
Now,  32 of the 60 factories in Khulna division are operational. Similarly,  15 of the 43 factories in Chattogram division have continued production.
Insiders  said black tiger shrimp and prawn are the main raw materials for these  processing plants but production of exportable shrimps has not grown  enough to keep the plants operational.
At the same time,  increased farming of vannamei shrimps in countries such as India,  Vietnam, and its relatively cheaper prices than locally farmed black  tiger and prawns hurt export significantly.
Bangladesh fetched $550  million in export earnings in fiscal year 2013-14. Since then, export  earnings have been falling consistently.
In fiscal 2020-21, export  receipts declined 1.15 per cent year-on-year to $328 million, showed  data by Export Promotion Bureau. 
BFFEA Vice President S Humayun  Kabir told The Daily Star that the absence of advanced and long-term  planning was also to blame for the industry's dismal state.
When fully operational, the industry has a combined capacity to produce 4 lakh tonnes of shrimp annually.
"But  now we are getting just 10 per cent, or 40,000 tonnes to 45,000 tonnes,  of that amount," he said, adding that a lack of shrimp supply was the  main reason why many factories have closed down.
During a visit to  shrimp processing factories in the Rupsha upazila of Khulna, it was  seen that many factories had been closed for years.
Anwarul Kadir,  an economist and member of Transparency International Bangladesh (TIB),  said unwillingness to repay loans and product tampering at shrimp  processing factories also contributed to the industry's collapse.
Two-thirds  of the factory owners even channelled their bank loans into other  sectors in a bid to make more money and as a result, many are unable to  pay instalments on time, he added.
After farmers stock their  shrimp at warehouses, frozen shrimp exporters buy it from commission  agents before processing them to ship abroad.
Besides, other  issues such as a shortage of fry and feed continue to plague the  industry while cyclones Amphan and Yaas made things worse. As a result,  the cost of shrimp fry and feed has risen.
Hatcheries in the  Khulna region have failed to produce shrimp fry as per the demand for  the past five years now, said Golam Kibria Ripon, general secretary of  Khulna Divisional Fry Businessmen's Association.
"We need 160 crore to 170 crore fry but we get merely 20 to 25 per cent of this amount," he added
According  to the local office of the fisheries department in Khulna, shrimp is  cultivated on about 260,000 hectares of land in the coastal districts  each year.
Of it, 152,000 hectares are in Khulna, Bagerhat and Satkhira districts.
Kazi  Belayet Hossain, former president of the Bangladesh Frozen Foods  Exporters Association, said exporters could get a loan for one year at 4  per cent interest under the government's stimulus package for the  sector.
"However, the banks are giving 13 to 14 conditions," he added.